Crystal Viper | Possession
by Deb Rao
– Senior Columnist —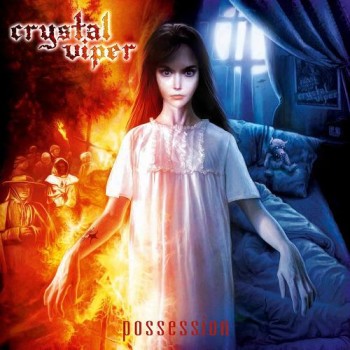 Crystal Viper, led by vocalist Marta Gabriel, is gearing up for the release of Possession via AFM Records on Jan. 21. The band was formed in 2003 and hails from Poland. Crystal Viper has a huge heavy metal arena sound. Marta Gabriel's vocals are a cross between Doro meets Lita Ford.
"Voices In My Head" captures the heavy vibe sound that translates throughout the entire album. The song "Fight Evil With Evil" has a captivating duo performance between special guest singer Harry Conklin and Marta Gabriel. The album denotes a heavy thrash sound with ferocious riffs accompanied melodic hard rock melodies. Possession crosses over to the dark side of witchcraft with a med-evil vibe on the songs "Mark Of The Horned One" and "You Will Die You Will Burn." Ronnie James Dio influences are prevalent throughout the entire album. Also shades of Black Sabbath and Iron Maiden run rampart.
This is a very strong release with a '80s heavy metal thrash vibe. Singer Marta Gabriel rises to the occasion with her heavy vocal style. Marta only slows down for a second on the melodic "Prophet Of The End." This song has heavy Dio influences. Possession could very well be one of the strongest efforts by Crystal Viper to date.
Genre: Heavy Metal
Band: Marta Gabriel – Vocals
Andy Wave – Guitar
Tomasz Danczak – Drums
Michal Badocha – Bass
Track Listing:
01. Zeta Reticuli
02. Voices In My Head
03. Julia Is Possessed
04. Fight Evil With Evil
05. Mark Of The Horned One
06. Why Can't You Listen?
07. You Will Die You Will Burn
08. We Are Many
09. Prophet Of The End
10. Thunder Steel Cover Song By Riot (Bonus)
Label: AFM Records
Website: www.facebook.com/crystalviperofficial
Hardrock Haven Rating 8/10