Even More Kiss and Tell: An Interview with Gordon G.G. Gebert
by Alex Smith-Barbieri
– Senior Columnist —
Even More Kiss and Tell: An Interview with Gordon G.G. Gebert
With KISS back in the headlines—they'll be inducted into the Rock and Roll Hall of Fame in 2014, and also celebrate their 40thanniversary—Hardrock Haven talked to someone known to have the inside scoop on KISS: former Ace Frehley best friend/keyboardist and best-selling author, Gordon G.G. Gebert.
In addition to Ace, Gordon played and toured with Angel, Marty Balin (Jefferson Airplane), Donna Summer, and others. He also wrote the popular and controversial books "KISS & Tell" and "Rock and Roll War Stories." From his home in Connecticut, Gordon talks to HRH about being Ace's best friend for years and part of KISS' inner sanctum, their recent Rock and Roll Hall of Fame induction, politics, his next books, and more.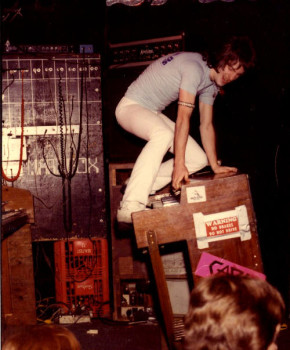 HRH: Gordon, thanks for taking time to talk with Hardrock Haven. KISS is on a lot of people's minds lately. What are your thoughts on their recent Rock and Roll Hall of Fame induction? Do you think Gene and Paul will perform live with Ace and Peter—and Tommy and Eric?
GG: It's funny that the Rock & Roll Hall of Fame didn't mean much to Gene and Paul when they got dissed every year, but now it's a huge honor for them. I'm happy for them. Gene and Paul worked hard and deserve it. As for the question whether they will perform live, that's just a drama to unfold. If they all keep their egos and tempers in check, we'll see a performance. I think it will be the original four, then joined by the "peripheral" members. If you think about it, the other members (Tommy Thayer and Eric Singer) worked longer—and harder—than Ace and Peter. If anything it will be interesting.
HRH: Your book "KISS & Tell"—the book you wrote with Bob McAdams about your years as Ace Frehley's best friend, confidant, and business partner—became a best seller. But it also created some controversy with Ace loyalists. What would you say to anyone who got upset about what's in the book, and do you still stand by every word you wrote?
GG: I absolutely stand by every word I wrote. Bob and I received A LOT of criticism when the book first came out—we still do by some, let's say, "exuberant" fans. For those that got upset with the book and called Bob and I "liars," I ask, "What part of the book got you so upset? The bi-sexual stories? The Nazi incidents? The sex stories? The fights over money?" Now that a lot of years have passed, Ace, Gene, and Peter themselves have proved that "KISS & Tell" is 100% truth. Now the facts in "KISS & Tell" are not as upsetting to die-hard fans. They've been desensitized.
HRH: The critical fans really shouldn't take issue with you or Bob since the stories are true!
GG: KISS fans should be thanking me. "KISS & Tell" was one of the first "tell all" books to come out on KISS. It opened the door. It was so successful, you wouldn't have had any of the other books come out—including the ones by all four original members of KISS. I get e-mails by fans telling me that "KISS & Tell" is the best book out there, even over Ace's, Gene's and Peter's books. Huge compliments. I thank the fans.
HRH: Let's talk about your upcoming projects. You're currently writing "A Wing and a Prayer with Angel." When do you think that will be coming out, and any interesting Angel stories you can tell us as a teaser?
GG: The "On a Wing and a Prayer with ANGEL" book is done. Until it gets released, I've been continuously tweaking it. An art, music, or written creation is never done. There's always room for changes. I'm told the release is waiting for the opportune time. Opportune time for me was yesterday, but I do get it. I wish Angel would have a reunion, get inducted into the Hall of Fame, SOMETHING! (laughs.)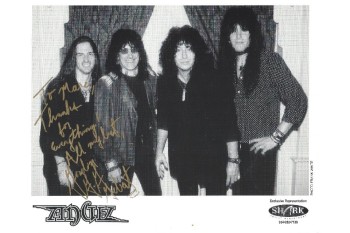 I don't have high expectations for the book. It is great, funny, and cathartic to write. You do your best, cast it to the wind, see if it connects with people, and has some kind of success. The band should have some kind of documentation out there. It's a story about a band that should've been huge and never got there. The world's most successful unsuccessful band (chuckles.)
Interesting Angel stories? So many. Angel was signed to the Casablanca record label. Neil Bogart was a man of excess. The book includes when Angel and Blue Oyster Cult toured together and their truck driver crashed into the Chattahoochee River in Georgia. That driver is mentioned in the song "Stay" by Jackson Brown, "A man named Fields takes us down to shaky town."
One of the crazier stories in the book is about Angel's original bass player, Mickey Jones, God rest his soul. Mickey had, to say it in respectful terms, sticky fingers. He actually spent time in prison. Angel was to perform at a nice sized theater. The show was sold-out. Mickey broke into the box office, disguised himself and sold a nice bunch of ticket stubs to fans. There were a lot of upset ushers as they tried to straighten out the ticket debacle. The details are in the book. The book will not disappoint any rock fan.
HRH: What's a typical day in the life of Gordon G.G. Gebert like? What else do you do besides play music?
GG: I'm extremely busy. I teach piano to a select bunch of kids and adults who really want to learn. It's very rewarding. I'm still recording, producing, not playing live anymore due to tinnitus (ringing in the ears). I produce videos—more editing than shooting. I'm always looking for creative opportunities. Life has been very good to me (knocks on wood).
HRH: You're also involved in politics, and the creator of the reality show, "Occupy vs. Tea Party." How did you get involved in politics, and what is the show about?
GG: I'm the creator of the concept of a reality show. I only got the debate portion of the show in the can (Available on YouTube http://www.youtube.com/user/TheOccupyvsteaparty/videos) I keep my personal politics close to the vest. As someone in the entertainment business, I don't publicly reveal my political beliefs. I like to think of my political ideology as the politics of common sense. I try to keep an open mind and believe in an America that is based on freedom and the right to voice your opinions, no matter what it is.
I witnessed firsthand the media controlling how the Tea Party and Occupy people were being portrayed. I came up with the concept of bringing the two factions together on a reality show based on the elements of the show "Big Brother"—making six Occupiers and six Tea Partiers live together—make them do politically based challenges ala "Celebrity Apprentice," and then the voting off process of "Survivor."
I wanted to make the presentation FAIR! Selling the concept to production companies and networks has been an interesting ride. Since I came up with the idea, Occupy and Tea Party have faded a bit, but they might resurge when big elections come up. The concept can still be done. Left vs. Right doesn't necessarily have to have the Tea Party, Occupy titles. I've learned a lot in the process.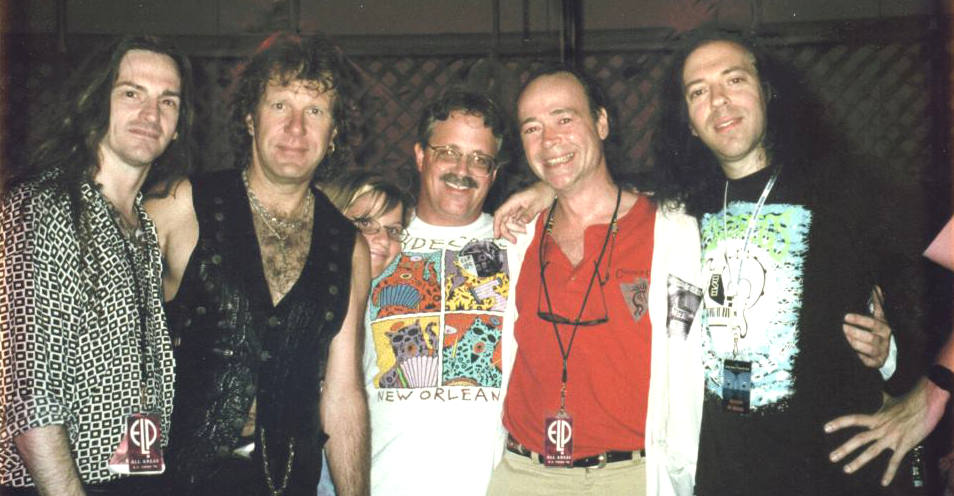 HRH: Looking back, what are some highlights of your musical career? Do any particular accomplishments, shows or albums stand out? I know you're a huge Keith Emerson fan.
GG: Like I said, I've had a blessed life. Lots of highlights and many lowlights (laughs). A career in music is not for the thin-skinned. Music has brought me all over the world. I get to say I've been to places not many people have been to, like the North Pole. And yes, I saw Santa up there and that's a whole other story. I got to go to Thule, Greenland military base to entertain the troops. I got to explore the Arctic Circle and Polar Ice Cap. A very cool experience. I've been all over the United States, performed in Europe and Asia. I've worked with, jammed, recorded and performed with the best of the best: Angel, Ace Frehley, Marty Balin from Jefferson Airplane, Vince Martell from Vanilla Fudge, Joey Ramone, Anton Fig, Liberty DeVitto from Billy Joel, Matt Sorum Guns N' Roses drummer, Doug Scofield, Toots Sweet, Les Warner from The Cult, and so many others that I can't think of off the top of my head. I've been lucky.
You brought up Keith Emerson. He was my musical idol growing up. He's the reason I started playing keyboards. I got to befriend Keith through the years. One highlight in my life was when Emerson, Lake & Palmer (ELP) was playing at Jones Beach Theater in New York back in the '90s when the "KISS & Tell" book first came out. I was backstage with my friends hanging out with all the bands that performed: ELP, Deep Purple and Dream Theater. I was with one of my best friends when Keith was trying to get my attention. My friend pointed and said, "Keith Emerson wants you."
Keith yelled over, "You're not leaving anytime soon?" I shook my head no. He told me to wait, don't go anywhere. Five minutes later he re-emerged with the "KISS & Tell" book in hand. Keith asked, "Gordon, please sign my book?" I looked at my friend as I signed the book. My friend said, "You do realize you're signing an autograph TO Keith Emerson?" It was very cool.
HRH: Everyone loves a good road story. What are some funny or crazy things that have happened to you on the road over the years?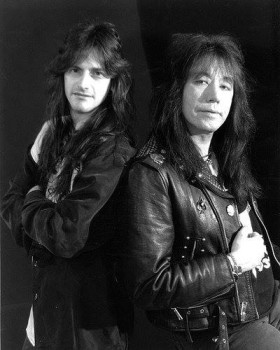 GG: I just recently saw the movie "The Wolf of Wall Street." Everyone in the theater was blown away by the excess. I laughed because I pretty much lived all the insanity depicted, minus the huge amount of money (chuckles). So much insanity has happened in my life. I do have to say I never did drugs or drank excessively. I never got caught up in bad vices. The only bad vice, if you want to call it that, was I did have a lot of girlfriends. A lot of the insane stories are documented in the "KISS & Tell" book and the "Rock & Roll War Stories" book.
You can check out some of those stories here:
http://www.amazon.com/Kiss-Tell-NEW-SPECIAL-EDITION/dp/0965879402/ref=sr_1_1?ie=UTF8&qid=1389167873&sr=8-1&keywords=kiss+%26+tell+gebert#reader_0965879402
And "Rock and Roll War Stories" is available on Amazon. http://www.amazon.com/Rock-Roll-Stories-Gordon-Gebert/dp/0965879429/ref=sr_1_1?ie=UTF8&qid=1389167709&sr=8-1&keywords=rock+%26+roll+war+stories+gebert
HRH: Is there anything else you want to say to your fans, and Hardrock Haven readers around the world?
GG: I thank everyone profusely for my great life. It continues to be quite a ride.
HRH: Gordon, thank you again for your time! Much happiness and success in 2014, and please stay in touch!
GG: Happiness and good health to you and your readers. Happy New Year!
Order "Kiss & Tell" special edition on Amazon. http://www.amazon.com/Kiss-Tell-SPECIAL-Gordon-Gebert/dp/0965879402/ref=tmm_mmp_swatch_0?_encoding=UTF8&sr=&qid=
Friend Gordon G.G. Gebert on Facebook: https://www.facebook.com/#!/gordon.gebert?fref=ts
Follow Gordon on Twitter: @GordonGebert