Firstrike | Deadly Voltage
by Justin Gaines
– Senior Columnist/News Editor —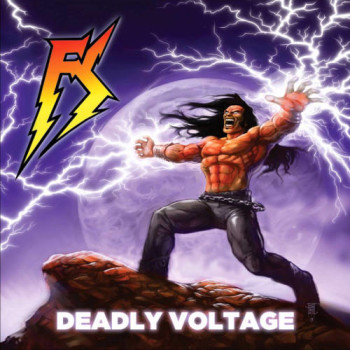 The third vintage band to be spotlighted by Divebomb Records' new Bootcamp series (which focuses on overlooked and forgotten demos, both new and old), is Long Island NY-based Firstrike (not to be confused with Firstryke or any of the First Strikes over the years). The band was late to the whole power/speed metal scene, arriving in the '90s as thrash was in its brief ascendency, so they never got much attention, but it certainly wasn't due to a lack of talent.
Firstrike has that classic Shrapnel sound down pat, and would have been right at home alongside shred-obsessed bands like Vicious Rumors, Chastain, Hexx and Apocrypha. Guitarist Joe Lucio just lights this thing up, delivering high-speed riffs and blistering solos that should have made him at least a cult shred hero at the time. Pair that with Mike Power's, um, powerful vocals and songs that hit right in the middle of the speed and power metal styles and you've got a real underground gem in Deadly Voltage, the band's first (and only) full-length album.
Divebomb's Bootcamp reissue of Deadly Voltage includes the full 1992 album (with the instrumental title track separated from "Simply Psychotic" as its own song) as well as the band's 4-song 1990 demo The Agony Pit as bonus tracks. The older songs are obviously quite a bit less polished (and Power's vocals are somewhat harsher), but they have a certain Metal Massacre kind of charm that's a lot of fun.
Edition Notes: Deadly Voltage is limited to 500 units and features new cover artwork, vintage photos, lyrics and a new band interview. The audio has been remastered to the best extent possible given the source material. The original version was only a cassette release after all. Still, it's been restored enough that any remaining defects don't distract overmuch from the songs.
This one is for the cult heavy metal collectors, especially for fans of Shrapnel-style power/speed metal bands with major guitar heroics going on. Fans of the '80s heavy metal style in general ought to dig Firstrike as well. It's not surprising given the era's changing musical landscape that they didn't break out, but at least we can now discover their music all these years later.
Genre: Heavy Metal, Speed Metal, Power/Thrash Metal
Band:
Fabian Battito (b) (v)
Nikki Terrono (d) (v)
Joe Lucio (g) (v)
Mike Power (v)
Track Listing:
Hell's Kitchen
The Awakening
No Life Sentence
Simply Psychotic
Deadly Voltage
Terminal Justice
Sell Your Soul
Manipulator
Incantations
Free Rider
The Agony Pit
Hellbound
The Phantom
Label: Divebomb Records
Website: http://www.divebombrecords.com/site/bands/firstrike/
Hardrock Haven rating: 8.5/10