Jake E. Lee's Red Dragon Cartel announce June 2014 UK tour dates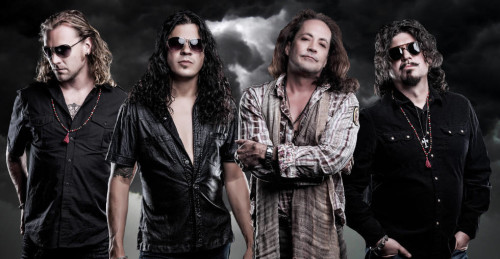 Former Ozzy Osbourne and Badlands guitarist, Jake E. Lee is pleased to announce June 2014 UK tour dates for his new band Red Dragon Cartel. The UK tour follows Red Dragon Cartel's eponymous debut album, released by Frontiers Records on January 27th.
The UK tour includes O2 Academy Islington (June 6), Nottingham Rescue Rooms (June 7), Wolverhampton Slade Rooms (June 8), Glasgow Classic Grand (June 10) and Newcastle O2 Academy 2. Special guests on all UK dates include Syron Vanes and Jupiter Falls. As previously announced, RDC will also set to play Download Festival on Sunday June 15th.
PLANET ROCK 24-HOUR TICKET PRE-SALE
THURSDAY JANUARY 30th
TICKETS ON SALE TO THE GENERAL PUBLIC
FRIDAY JANUARY 31st
A special 24 hour ticket pre-sale for the Red Dragon Cartel UK tour dates will kick off on Planet Rock from 9am on Thursday January 30th. Tickets will then go on sale to the general public on Friday January 31st via www.seetickets.com or from the venues.
RED DRAGON CARTEL
With special guests
Syron Vanes & Jupiter Falls
Buy Tickets Online From:
www.seetickets.com
www.reddragoncartel.com
O2 ACADEMY ISLINGTON, LONDON
FRIDAY 6th JUNE 2014
Tickets: £25.00
Info: 0207 288 4400,
Book Online: www.ticketweb.co.uk
N1 Centre, 16 Parkfield Street, London, N1 0PS
www.o2academyislington.co.uk
RESCUE ROOMS, NOTTINGHAM
SATURDAY 7th JUNE 2014
Tickets: £25.00
Venue Box Office: 0845 413 4444
Book Online: www.alt-tickets.co.uk
25 Goldsmith Street, Nottingham, NG1 5LB
www.rescuerooms.com
SLADE ROOMS, WOLVERHAMPTON
SUNDAY 8th JUNE 2014
Tickets: £25.00
Venue Box office: 0870 320 7000
Book Online: www.seetickets.com
North Street, Wolverhampton, West Midlands, WV1 1RQ
www.wolvescivic.co.uk
CLASSIC GRAND, GLASGOW
TUESDAY 10th JUNE 2014
Tickets: £25.00
Info: 0141 847 0820
Book Online: www.tickets-scotland.com
18 Jamaica Street, Glasgow, G1 4QD
www.classicgrand.com
O2 ACADEMY 2 NEWCASTLE
WEDNESDAY 11th JUNE 2014
Tickets: £25.00
Venue Box Office: 0844 477 2000
Book Online: www.ticketweb.co.uk
Westgate Road, Newcastle-Upon-Tyne, NE1 1SW
www.o2academynewcastle.co.uk
All tickets are subject to a per ticket charge plus order processing fee