Joe Bonamassa | Tour de Force – Live in London
by Steve Patrick
– Senior Columnist —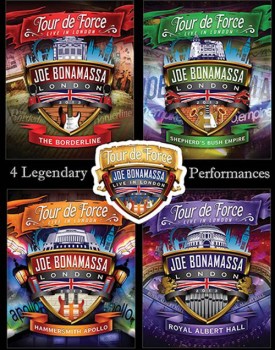 It's such a rare thing to come across a musical project that can truly be called original, but that's exactly what can be said of Joe Bonamassa's latest Blu-ray/DVD releases. The entire project is called Tour de Force – Live in London and documents 4 shows in London over the course of 4 days in March of 2013, all presented on 4 different, separately sold Blu-rays/DVDs. This small London tour quickly became advertised as "The Guitar Event of the Year" and received rave reviews from all in attendance. To be honest, when the project was first announced my initial reaction was that this will be an excessive amount of material from one artist all released at once, but those thoughts couldn't have been further from the truth.
Each of the shows represented on Tour de Force was designed to highlight a particular facet of Joe's incredibly successful career thus far. The first night, which was shot at The Borderline, is the most intimate of the 4 shows. Bonamassa performed at the small 200-seater club with a "power trio" band made up of bassist Michael Rhodes and the legendary Anton Fig on drums. This set harkens back to Joe's earliest solo days playing bars and small clubs when just Joe, Eric Czar (bass) and Kenny Kramme (drums) were in the band.
In an apparent nod to his hero Eric Clapton's 24 Nights live release from 1991, Bonamassa's 2nd night in London was dubbed the "blues night" and took place at Shepherd's Bush Empire. This lineup consisted of longtime Bonamassa band members Carmine Rojas on bass and Tal Bergman on drums augmented by Arlan Schierbaum on keys and a small horn section. The "blues night" owns up to its moniker by highlighting some of Joe's best solo blues songs to date like "Last Kiss," "Lonesome Road Blues" and "The Great Flood". Another standout in the set is Bonamassa's incendiary take on B.B. King's classic "Chains & Things."
The 3rd night of Bonamassa's stay in London was the "rock night" at the Hammersmith Apollo and again features Bergman, Rojas, and Schierbaum, but drops the horns. However, Lenny Castro (percussion) and Doug Henthorn (background vocals) are added to the mix for this show. The setlist starts with an acoustic set that displays Bonamassa's softer side that is also visible on the recent An Acoustic Evening at the Vienna Opera House CD/DVD/Blu-ray. The longtime set staple "Woke up Dreaming" once again gives a nod to Joe's past which then segues into the electric portion of the show. Joe blasts into the unmistakable riff of Rory Gallagher's "Cradle Rock" which was also track 1 on Bonamassa's first solo record A New Day Yesterday. An explosive version of Joe's most well-known song "The Ballad of John Henry" along with a reverent reading of Led Zep's "Tea for One" featuring Henthorn on lead vocals made the "rock night" a memorable one for sure.
The 4th and final night of the Tour de Force set of London shows was a return to the illustrious Royal Albert Hall. Bonamassa has already released an incredibly successful live CD/DVD/Blu-ray of his 2009 appearance at the venue which included a much publicized live collaboration with Eric Clapton on the song "Further on up the Road". Four years later, as documented here on Tour de Force, Bonamassa demonstrates that although having a guest star of Clapton's status would have been a nice bonus, it's hardly necessary since Joe is an undisputed guitar hero in his own right. Joe's older material like "Around the Bend" and "Moutain Time" fit seamlessly side-by-side with his newer offerings like "Driving towards the Daylight" and "Slow Train". The band at the 2013 RAH show is a collection of the musicians that Bonamassa performed with on the prior three nights and each lend their talents that combine to a truly unforgettable blues rock spectacle.
An added treat to the Tour de Force DVD/Blu-rays is the behinds the scenes feature "No Man's Land" and "The Making of Tour de Force" which are both broken up into four parts, one on each show disc. This bonus material is sure to satisfy any die-hard fan who likes to take a peek behind the show curtain and get to know their favorite artist a little bit better.
Joe Bonamassa's body of work is truly staggering when one looks at the sheer frequency of his musical output. In 2013 alone he put out An Acoustic Evening at the Vienna Opera House, a second record with Beth Hart called Seesaw, and these four Tour de Force DVD/Blu-rays. 2014 will see the release of a new Bonamassa solo record and who knows what else from this unstoppable guitar powerhouse. If you're a fan of Bonamassa from any period in his career, do yourself a favor and pick up these Tour de Force shows. The picture and sound on all four releases are impeccable. Each show stands up well on its own, but combined as a whole the shows rarely repeat themselves set-list-wise and all four shows present a comprehensive picture of one of the most talented musicians in modern times.
Genre: Blues, Rock
THE BORDERLINE:
TRACKLIST:
• I Know Where I Belong
• Spanish Boots
• Your Funeral My Trial
• Blues Deluxe
• Pain And Sorrow
• Happier Times
• Steal Your Heart Away
• Miss You, Hate You
• The River
• Burning Hell
• Don't Burn Down That Bridge
• Story Of A Quarryman
• Are You Experienced?
SHEPHERD'S BUSH EMPIRE:
TRACKLIST:
• Slow Train
• So It's Like That
• Midnight Blues
• Last Kiss
• So Many Roads
• You Better Watch Yourself
• Chains & Things
• Lonesome Road Blues
• Stop!
• I Got All You Need
• The Great Flood
• The Ballad Of John Henry
• Asking Around For You
• Further On Up The Road
HAMMERSMITH APOLLO:
TRACKLIST:
• Seagull
• Jelly Roll
• Richmond
• Athens To Athens
• Woke Up Dreaming
• Cradle Rock
• When the Fire Hits the Sea
• Dustbowl
• Dislocated Boy
• Driving Towards The Daylight
• Who's Been Talking
• Jockey Full Of Bourbon
• Tea For One
• Lonesome Road Blues
• The Ballad Of John Henry
• Sloe Gin
• Just Got Paid
ROYAL ALBERT HALL:
TRACKLIST:
• Palm Trees, Helicopters and Gasoline
• Seagull
• Jelly Roll
• Black Lung Heartache
• Around the Bend
• Jockey Full Of Bourbon
• From the Valley
• Athens to Athens
• Slow Train
• Last Kiss
• Dustbowl
• Midnight Blues
• Who's Been Talking
• Happier Times
• Driving Towards The Daylight
• The Ballad of John Henry
• Django
• Mountain Time
• Sloe Gin
• Just Got Paid
Label: J&R Adventures
Website: www.jbonamassa.com
Hardrock Haven rating: 9/10