by Alexandra Mrozowska
– Columnist —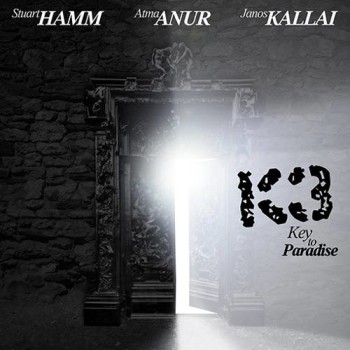 Budgie, Cream, the Jimi Hendrix Experience, ZZ Top, Rush, Motörhead all led the way to Satriani's famous G3 project. A "power trio" formula always has been extensively used by bands that go for instrumental performance and musicianship rather than the aspect of radio-friendliness. One such power trio is the Hungarian project centered around mastermind and guitarist Janos Kallai – K3. Years after the Hungarians introduced listeners to their instrumental, guitar-oriented metal sound with albums Under a Spell and Garden of Death, Kallai is back and sounds better than ever. The newly released Key to Paradise EP also is the occasion to introduce the K3's new lineup, which comprises musicians well known in the hard rock/heavy metal world: Bassist Stuart Hamm, known from playing with Joe Satriani; and drummer Atma Anur (Richie Kotzen, Tony MacAlpine, Cacophony and more).
Key to Paradise is an instrumental EP, so the task of drawing a listener's attention is twice as difficult – there must be something to compensate for the lack of vocals. As a remedy for this, K3 delivers solid musicianship (as a matter of fact, the résumé of the trio's rhythm section serves as a guarantee for such a status quo). Four songs off the new EP are clear proof of the fact – "Key To Paradise," for example, features a particularly interesting riff that develops into a fierce musical dialogue between a guitar and rhythm section, just until a somewhat grim mood of the next track "Snake Nest." "Lost Road" is outstanding because of its Satriani-inspired virtuosity (and interesting, although misleading, acoustic guitar is in the opening), and the final track, "Judas" is just pure heavy metal gallopade.
A solid album though it is, Key to Paradise definitely lacks variety. Only slight differences exist among the four songs included on the EP, so the overall impression might be that they get a little repetitive. Still, an EP is just a teaser of what the band has in store for future projects and should dispel doubts. Hopefully, a full-length album is in the works. Key to Paradise is everything a metal fan could wish to hear through their speakers – a journey to the world of thumping bass lines and drums and crushing guitar riffs and solos. Recommended for metal fans.
Genre: Instrumental Rock
Line-up:
Stuart Hamm – bass
Atma Anur – drums
Janos Kallai – guitars
Track Listing:
1. Key to Paradise (4:19)
2. Snake Nest (4:10)
3. Lost Road (4:03)
4. Judas (4:01)
Label: K3 Production
Online: http://k3music.com/
Hardrock Haven rating: 7.5/10