by Anabel Dflux
– Senior Photojournalist —
January 15 2014 at The Wiltern Theatre in Los Angeles, CA. —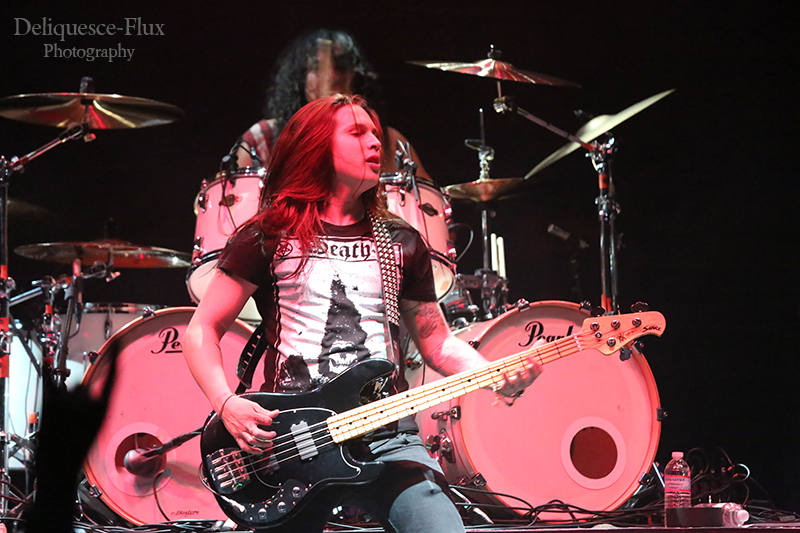 Rock band Escape the Fate kick some major butt at The Wiltern Theatre, on the corner of Wilshire and Western. The Wiltern is an old theatre, accommodating some of the world's most famous artists. It was only fitting that it would host one of the most talked-about and controversial shows of the new year, the Bury The Hatchet Tour. This tour combined two bands with an infamous history of feuding with each other- Escape the Fate and Falling In Reverse. Have they truly buried the hatchet? I suppose you'll have to follow all of the tour dates to find out.
Although Falling In Reverse had quite an eye catching stage set up, Escape the Fate really shined with their energetic performance and absolutely brilliant interaction with the crowd. Concert goers were up in the air jumping, fist pumping, and screaming the lyrics to their favorite ETF songs, a passion you could feel all the way to the back of the venue. Despite issues with sound at this particular show, Escape the Fate made up for it with their live performance. Constantly moving and always engaging each part of the stage, vocalist Craig Mabbitt knows how to entertain each and every soul in the house. TJ Bell appears to have an immense amount of passion for his craft, as is present in his playing. Back to the band, Max Green looked stoked to play! Drummer Robert Ortiz had a big grin on his face while keeping the beat, and Thrasher was a definite rock star up on the Wiltern stage.
The songs have a positive message and a sentimental meaning, one that many can relate to. The set list ran through crowd favorites and some new hits, keeping everyone happy.
Regardless of whose side you're really on, the audience has to admit that Escape The Fate truly brought their all to the stage- despite any complications.
Members:
Craig Mabbitt
TJ Bell
Max Green
Robert Ortiz
Kevin "Thrasher" Gruft
LIVE!| Escape the Fate Concert Photo Gallery