by Deb Rao
– Senior Columnist —
January 9, 2013 at Las Vegas Country Saloon in Las Vegas, NV. —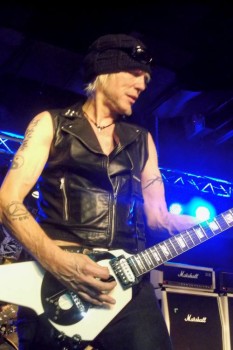 Michael Schenker's Temple Of Rock kicked off their North American tour in Las Vegas on February 9th at the Las Vegas Country Saloon. The tour is in support of Bridge The Gap. The Las Vegas Country Saloon is in the heart of the Fremont Experience. It is a friendly club with a wide-open ambiance. Michael Schenker's Temple Of Rock featured Michael Schenker on guitar, Doogie White on vocals, Wayne Findlay on keyboards, Pete Holmes on drums and Francis Buchholz on bass.
Michael Schenker hit the stage at 11:15 P.M. During the opening song "E-Tone" the guitar virtuoso commanded the stage with his expertise flawless guitar performance. New singer Doogie White has a vocal style that reminds me a lot of Ronnie James Dio. On the song "Cry For The Nation," he dedicated this song in memory of Ronnie James Dio. It was also Wayne Findlay's birthday.
The set was quite diverse featuring new material from Bridge The Gap and of course all of the classic hits including Scorpion songs "Love Drive" and "Piece Of Meat." The new material was well received and very strong. The band performed new songs "Where The Wild Winds Blow" and "Horizons" both have that classic Schenker flair.
In concert Michael Schenker brings back the guitar solo. His amazing fret board pyrotechnics were riveting. The execution and precision of the majestic guitar solos were spell binding.
The audience enjoyed the classic hits of "Only You Can Rock Me" and "Rock Bottom." During the set Michael performed many solos that were infectious. Be sure to catch Michael Schenker on tour this winter.
Online: www.michaelschenkerhimself.com