LIVE! | Sin City Sinners 6th Annual "Sinnin' New Years Eve"
by Deb Rao
– Senior Columnist —
December 31, 2013 at The Lounge at The Palms in Las Vegas, NV. —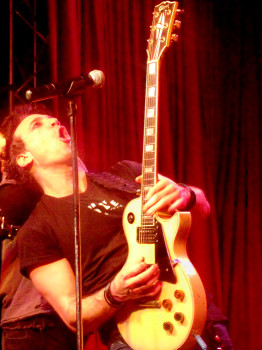 What better way to celebrate the end of 2013 than at The Palms with Las Vegas premiere band the Sin City Sinners? 2013 has proved to be another amazing year for one of the hardest working bands in Las Vegas. Recently the band celebrated the grand opening of Vince Neil's new club Tatunado at Circus Circus. The Sin City Sinners brought in special guest stars to Vamp'd including Tracii Guns, Sebastian Bach, Phil Lewis, and George Lynch.
Tonight at The Palms on New Years Eve marked the return of Todd Kerns. The party got started at 10:30 P.M. Fans traveled from all over the world including Brazil, Arizona, Texas, and Indiana. The Sinners dug deep into their reptoire of Exile On Fremont Street album. The band performed all of the hits including "It's Not You It's Me," "Blowup Doll," "Arianna Incomplete" and the riveting "Going To Vegas."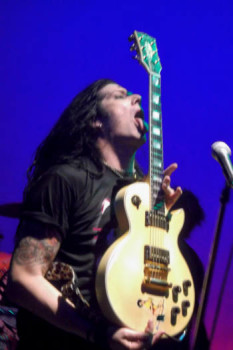 Todd Kerns was at the top of his game. The veteran performer performed all of the songs with so much passion. I had the opportunity to ask Todd what his favorite show was this year? He responded, "I would have to say this one. I always have so much fun playing with this band." When I asked Todd if he had any New Years Resolutions he responded, "To play with The Sinners more in 2014." As many of you know. Todd is the bassist in Slash's band. So his schedule pretty much kept him on the road this year. Right after this show, Todd was off to L.A. to finish recording the upcoming Slash release.
I haven't seen the band in awhile one member that really stood out was Zachary Throne. You may remember Zach from 90210 fame. Well, he brought the house down as The Palms was turned into a metal haven of Black Sabbath's "War Pigs" and "Iron Maiden's "Run To The Hills." As the night quickly turned into 2014, Todd and Sinners manager Jason Green conducted the countdown to 2014.
Well another mega metal year has come to a close as The Sin City Sinners illuminated the stage with their infectious hard rock songs. Many thanks to guitarist Brent Muscat for making the Las Vegas music scene a community filled with so many talented musicians that are bringing metal back to Vegas.
Online: www.facebook.com/sincitysinners