Lynam | Halfway To Hell EP
by Matt Karpe
– Senior Columnist —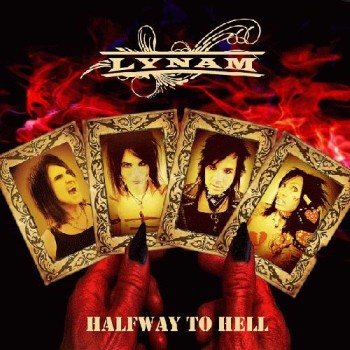 Jacob Bunton and Lonny Paul step away from Adler to release their latest record with Lynam, which brings eighteen minutes of unrelenting and emphatic hard rock in the form of Halfway To Hell.
"Rise Up" is a stomping opener with delicious guitar hooks and hard drumming. The vocals from Bunton are strong and commanding as the catchy chorus makes a strong fist pumping statement.
"Halfway To Hell" has an 80s' sound with dirty guitar rhythms aplenty, and the drumming is heavier than a hangover after a night on Jack. The chorus is again full of attitude with a melodic hook that should bring Lynam into the big league.
"Dead Man's Parade" is slightly Guns N' Roses-esque, with the dirty scratchy guitar work that controls the track. Bunton's vocals are deeper than previously heard, and it shows that his voice is greatly diverse.
"Cold" is a sensational ballad of sorts, with a Billy Idol feel to the dramatic yet romantically tinged music. Bunton's vocals strongly bring to mind Ville Valo of HIM, with the changes from deep and dreary (not a bad thing) to high pitch working well at the opportune moments. The drumming is hard and fast and the guitar solo midway is excellent. It is the best song on the EP and is brilliantly layered to make this one of Lynam's best ever songs.
"Store Bought Halo" clocks in at under two minutes in length, and not a second is wasted as it is fast and furious throughout. The short chorus is simply infectious and the guitar work is top notch once more.
"Wrong Side Of The Grave" has a thrashing opening which sees some grittier guitar riffs and a slightly industrial effect on the drumming. The chorus is huge and ends a near flawless record nicely.
Lynam have produced an EP which should elevate their career to the next level because the collection of songs here are an emphatic statement of the direction the band are heading.
Halfway To Hell is a gift sent from heaven.
Genre: Hard Rock
Band:
Jacob Bunton- Vocals, Guitar
Lonny Paul- Guitar, Vocals,
Mark Dzier- Bass, Vocals
David Lynam- Drums, Vocals
Track Listing:
1. Rise Up
2. Halfway To Hell
3. Dead Man's Parade
4. Cold
5. Store Bought Halo
6. Wrong Side Of The Grave
Record Label: New Ocean Media
Website: www.lynammusic.com
Hardrock Haven Rating: 9.5/10