Naked Idol | Filthy Fairies EP
by Matt Karpe
– Senior Columnist —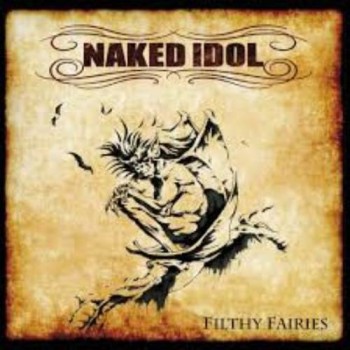 Fans of monster rock act Lordi may be familiar with Naked Idol, the hard rock band featuring ex-Lordi bassist Magnum. For those new to either of these bands, Naked Idol are another fine addition to the prolific Finnish music scene, and although they have been together since 2006 and released a few singles, their debut Filthy Fairies EP is a great introduction to what they have to offer.
"Shattered" has a dirty bass line from Magnum; which hits from the off before some grungy riffs from guitarist Anti turns the volume up to eleven. The drumming is especially hard from Jannis K., with Malcolm's rough and raspy vocals seemingly lost slightly underneath the vibrant instrumental- the only dampener on a good opening song.
"Hungry (For You)" finds the drums thrashing, the guitars chugging and with a brilliant melodic and catchy chorus, the song is a small nod in the direction of Euro-glam rock (if there is such a thing), and it's a song you could imagine fellow Finns Reckless Love performing with the same panache.
"Filthy Fairies" features Mr. Lordi himself, as he takes the main vocal lead with the backing coming from Malcolm. There is a slightly stoner rock feel to the song with the dirty guitar tones, and it's another high point on a good album.
"Jane" is a good ballad with a strong vocal range. The guitar solos from Anti are 80s' style perfection, and makes the song the standout track on the EP.
Closer "Devil Ridin' Shotgun" picks the pace up again, with a raucous number full of thunderous guitar, bass and drum work.
Filthy Fairies is a great introduction to Naked Idol. Here is five songs that flow well and give the listener a little insight into the various styles of rock that this band has to offer.
They are also another band to add to an impressive list of Finnish exports, and it won't be long before Naked Idol go global.
Genre: Hard Rock
Band:
Malcolm- Vocals
Anti- Guitars/Backing Vocals
Magnum Bass/Backing Vocals
Jannis K- Drums
Jones- Additional Backing Vocals
Track Listing:
1. Shattered
2. Hungry (For You)
3. Filthy Fairies (feat. Mr. Lordi)
4. Jane
5. Devil Ridin' Shotgun
Record Label: Rascal Music Finland
Website: www.facebook.com/NIbandofficial
Hardrock Haven Rating: 8/10