by Alissa Ordabai
– Senior Columnist —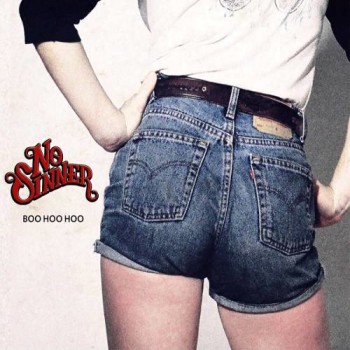 Blues-rock, rockabilly, country, and even touches of gospel boil with such heat in this pressure cooker of styles, the lid is about to fly off. Twenty-five year-old Canadian vixen Colleen Rennison not only gives the band its name (No Sinner is Rennison spelled backwards), but also pulls all the attention to herself from the word go. The bare-bones arrangements of elementary guitar, bass, and drums do the absolute minimum to keep these songs jumping. And the steam engine that drives them right in your face is Rennison's raw, open, brash windstorm of a voice.
But it's not all wounded Joplin-esque heartache, shouty libertine declarations, or saucy rockabilly romps. The rollicking opener "Boo Hoo Hoo" may swagger with retro-contempo cheek, but it also lays bare Rennison's finely tuned blues sensibility. Hers is a world-class voice: a weapon of assault when needed, but also capable of traveling deep as well as wide. On standout "Rise Up" the delicate symmetry of light and shadow reflects the inner truth so vividly, you wonder how such earnestness can coincide so well with pop sensibilities.
But it all clicks into place precisely when introspection balances out the urgency of Rennison's delivery. You believe her when she says that "music is a medium between us and the spiritual world" and get to trust her instincts as the record goes on. Growing up during the blandest decade for women in rock must have given her the drive to want to change it all. And it's not about reviving the era of great female musicians such as Janis Joplin, Nina Simone, and Bessie Smith (all Rennison's heroes), but about cherishing the roots to forge your own identity.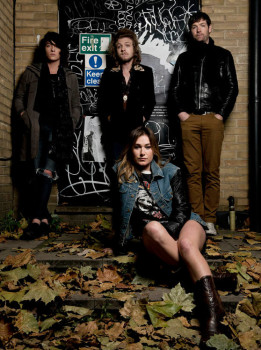 Genre: Blues-rock, Rockabilly, Country
Personnel:
Colleen Rennison – vocals
Eric Campbell – guitar
Ian Browne – drums
Bradley Ferguson – bass on "September Moon"
P. Bossley – bass on "Boo Hoo Hoo", "Love is a Madness", "Runnin'", "If Anything", "Rise up"
M. Camirand – bass on "Work Song", "Devil on My Back"
D. Heming – organ
K. Tang – trombone
L. Raymond – trumpet
M. Pratt – tenor sax
T. Sars – bari sax
Track Listing:
1. Boo Hoo Hoo (P.Bossley, C.Rennison)
2. Love is a Madness (P.Bossley, C.Rennison)
3. Runnin' (C.Rennison, B.Yardley)
4. If Anything (P.Bossley, C.Rennison)
5. Work Song (N.Adderley, O.Brown Jr.)
6. That'd be the Day (P.Bossley, C.Rennison)
7. Rise up (B.Rogers, J.Carlsoon)
8. Devil on My Back (C.Rennison, E.Campbell, I.Browne, M.Camirand)
9. September Moon (B.Rogers)
Label: Provogue, Mascot Label Group
Online: www.nosinner.com
Hardrock Haven rating: 7/10