Orphaned Land | All Is One
by Justin Gaines
– Senior Columnist/News Editor —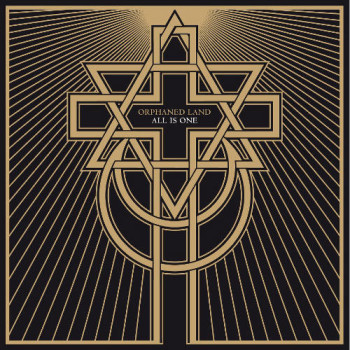 After releasing a pair of mind-blowing concept albums (2004's Mabool and 2010's Never Ending Way of Orwarrior), Israeli progressive/death/symphonic/folk metal band Orphaned Land decided to try a different approach with their latest release. 2013's All Is One is the band's fifth full-length album, and it's a definite change of pace for Orphaned Land.
Orphaned Land has always stressed peace and unity, both in their lyrics as well as their online statements, which is even more admirable given the volatile area of the world that they hail from. With All Is One, they seem to be putting that message of unity in the very DNA of the album. It's an extremely accessible, extremely melodic album that seems to say "all are welcome, come and sing." Harsh vocals are kept to a minimum (but have a great effect when they do show up), as are high concept and overly progressive elements. There is still a heavy metal backbone to the album, but All Is One is a catchier, almost rock-oriented Orphaned Land album, and the direction works surprisingly well. The folk melodies, symphonic elements, wide array of backing vocalists and regional instruments play a much greater role on All Is One, and really help the album envelop listeners and draw them in.
It's funny how even when they're not making a dedicated concept album Orphaned Land still makes every song feel like an integral part of a cohesive whole. The idea of "singles" and "filler" just doesn't apply here. All of the songs on All Is One add to the greater picture, even as they all stand on their own merits. It's just a powerful and moving experience, and that's not something a lot of bands can deliver.
It's not the massive epic that the previous two Orphaned Land albums were, but All Is One is still a wonderful example of this unique band's creativity and talents. It has such a powerful atmosphere and energy that it's hard to imagine any but the most jaded fans being disappointed by this album. Beyond the band's current fanbase, All Is One should satisfy just about any open-minded metal fan, but particularly fans of Myrath, Therion, Damnation Angels and even Dream Theater.
Genre: Progressive Metal, Folk Metal, Symphonic Metal
Band:
Kobi Farhi (v)
Uri Zelha (b)
Yossi Sassi (g)
Chen Balbus (g) (k)
Matan Shmuely (d)
Track Listing:
1. All Is One
2. The Simple Man
3. Brother
4. Let the Truce Be Known
5. Through Fire and Water
6. Fail
7. Freedom
8. Shama'im
9. Ya Benaye
10. Our Own Messiah
11. Children
Label: Century Media
Website: www.orphaned-land.com
Hardrock Haven rating: 9.5/10