RENTAP | Summoning The Sun
by Joe Mis
– Senior Columnist —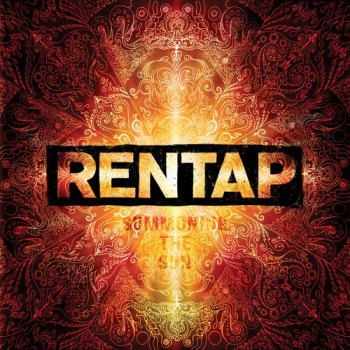 The Dutch five piece act calling themselves RENTAP has given itself some pretty big shoes to fill. Apparently, RENTAP translates from ancient Malaysian as "Shaker Of The World" – a title given to a warrior ahead of his time. After putting out Summoning The Sun, a five track EP, the hard rocking RENTAP shows that it has the potential to live up to that lofty title.
RENTAP is fronted by the gritty voiced Phoenix, who's voice is a cross between Lizzy Hale and Pink (with touches of Hayley Williams) – and very well suited for the hard rocking blues-based style of the band. She is ably backed by the guitars of Nik and Yoep – a duo that works well together and lays down some strong riffs and neat solos. Bass is handled by Bart, and drums by Yuma – and the pair provides a formidable kick. In fact, the band displays a level of teamwork far beyond what one would expect from a new act, due to the fact that these are all experienced musicians.
Crisp guitar riffs open "Come Through The Fire," a track which becomes a blues based hard rocker with a great kicky rhythm line and solid vocals, although there are a few moments that Phoenix might be slightly overstepping her range. The band is polished, but not glossy, and the mix done by Yuma van Eekelen (Exivious, ex-Pestilence) and Bart Hennephof (Textures) serves the music welland gives it that elusive "almost sounds like a live gig" vibe. "Upside Down" has a very heavy, almost thrashy groove to it, yet at times it seems like some of the riffs and rolling bass lines were inspired by old Iron Maiden. This track gives Phoenix a chance to do some layered voclas, and she handles the task well. "Insane" is all about the guitars. Big hooks and superb rhythms just drip blues rock, the martial drums highlight what turns out to be a rather technical track, and the lead break is awesome. Brutal riffs kick "Break These Chains" into darker, near metal territory, but the sweeping chorus pulls it back into the light. Tight guitars again make this one a winner. "Future World Skies" wraps the EP with a slower-tempo track that incorporates a few more modern rock touches – although most could probably do without the occasional megaphone-muffled vocals.
RENTAP's music is simple and undiluted hard rock. Powerful and pure, they pull no punches and are unashamedly old school rockers through and through. However, they are not throwbacks or hard rock has-beens – they blend in a number of modern influences without letting electronics or studio gimmicks overwhelm the basics. RENTAP delivers blistering hard rock with a veteran touch, and their enthusiasm for what they do is readily apparent. If there is any disappointment at all it is the simple fact that this is only an EP rather than a full album.
There are few flaws with either the music or the mix, and the few rough vocal spots should be ironed out with a bit more seasoning. This is a band to watch, and is quite capable of living up to its potential. If you like solid hard rock with a blues background that skirts the edges of the metal world, RENTAP's Summoning the Sun is highly recommended!
Genre: Hard Rock
Band:
Phoenix (vocals)
Nik (guitars)
Yoep (guitars)
Bart (bass)
Yuma (drums)
Guest: guitar solo on "Come Through the Fire" by Bart Hennephof
Track Listing:
1. Come Through the Fire
2. Upside Down
3. Insane
4. Break These Chains
5. Future World Skies
Label: Independent
Website: www.rentapband.com
Hardrock Haven rating: 8/10