by Derric Miller
– Managing Editor —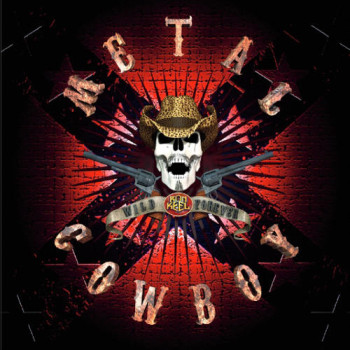 After all these years, Ron Keel (KEEL, Steeler, Fair Game, IronHorse, Saber Tiger, etc.) finally has what he considers to be a true solo album, and he called it Metal Cowboy. Although an extensive list of musicians played on the album, the main contributors to round out his recording band were drummer Mike Vanderhule (Y&T), guitarist Frank Hannon (Tesla) and bassist Geno Arce (IronHorse, KEEL). Anyone who has followed Keel through the years and today knows that he has a deep-rooted love of Country Music, but obviously, as the guy who can hit those notes on "Speed Demon," has a lust for Heavy Metal as well. Put those two factions together, and you get Metal Cowboy.
"Long Gone Bad" opens things up, a bluesy, grooving Country-hued composition that also features Keel's trademarked screams of "whoa-oh!" and razor-edge riffs and leads. It's unique because listening to the lyrics, Keel is basically singing a song about himself, his journey and what the album stands for. It's a damn fine way to being introduced to the Metal Cowboy sound.
"Wild Forever" will remind you a bit of his sound in IronHorse. It straddles the line between New Country and straightforward Hard Rock, something Bon Jovi has been experimenting with for years. As far as radio-friendly tracks on the album, this is likely the most mainstream.
"What Would Skynyrd Do?" is the first song that overtly leans farther towards Cowboy than Metal. Lynyrd Skynyrd is an obvious reference point for this kind of music; they perfected the art form that Keel is building upon here. Vocally, though, Keel stretches beyond the normal, lower range you'd expect from the song and it sections, put's that edge to his voice during the chorus, especially right before the guitar solo from Hannon. Hannon was the perfect addition to the band; his work in Tesla helped propel that band to platinum heights and his solo here is as authentic as it should be.
A real chance for a hit song, though, could be "Just Like Tennessee." An acoustic led track, the yearning, poignant lyrics and vocals hypnotize you right away. When he sings, "I'm 2,000 miles from nowhere, but it's just like Tennessee," you can feel Keel remembering his upbringing, part of it in Tennessee. But it's a song that anyone who misses their home can connect with, and that kind of message everyone can feel. As a bonus track, there's an uplugged version of the song, but this version is just "bigger." (The vocals are even more upfront on the bonus version, though, and vocally, it's masterful.)
When you get to the duet he sings with Paul Shortino (Rough Cutt, King Kobra), called "Singers, Hooker & Thieves," you just get the Country part of the equation. And if it doesn't remind you of another famous duet, "Mama Don't Let Your Babies Grow Up to be Cowboys" then you just haven't heard that song before—or ain't paying attention. Shortino is a stellar vocalist, and the harmonies the two create are mountains above whatever connection you may make to the aforementioned Waylon and Willie classic.
Keel re-recorded a Metal Cowboy version of the KEEL cover hit "Evil Wicked Mean & Nasty." The song adds in more Country elements than the purely Metal version they made a hit out of before, mainly harmonica, but vocally, Keel keeps it … nasty. It's a kick ass recording of the familiar song.
"The Cowboy Road" is another song that meshes the best parts of what has influenced Keel to become the musician he is today, and it all ends on "3 Chord Drinkin' Song," one that features the Sin City Sinners. It's a laid back and silly song that makes you want to … well … drink. (It's in the NAME.) Just listening to it makes you jealous you weren't there during the recording because it truly sounds like a hell of a good time.
So there you have Metal Cowboy, from the guy whose first song he heard on the radio from himself was called "Hooker." If you didn't know that, Keel also wrote an autobiography, Even Keel: Life on the Streets of Rock & Roll, and you can read all about it in the book, which is released the same day as Metal Cowboy. Why don't you pick up Metal Cowboy as the soundtrack to the autobiography, and you'll know everything about the how and why Keel's first solo album ended up as Metal Cowboy. In the end, no one else could have honestly created Metal Cowboy, because there's only one Ron Keel, and this is his life.
Genre: Metal Cowboy
Band:
Ron Keel—lead vocals, guitar, bass, banjo
Mike Vanderhule–drums
Frank Hannon—guitars
Additional musicians can be found on the credit page: http://ronkeel.com/metal_cowboy_album_credits/
Tracklisting:
1) Long Gone Bad
2) Wild Forever
3) My Bad
4) What Would Skynyrd Do?
5) Just Like Tennessee
6) The Last Ride
7) When Love Goes Down
8) Singers, Hookers & Thieves (duet with Paul Shortino)
9) Evil Wicked Mean & Nasty
10) The Cowboy Road
11) 3 Chord Drinkin' Song (featuring the Sin City Sinners)
Bonus tracks:
12) My Bad (radio version)
13) Just Like Tennessee (unplugged)
14) Singers, Hookers & Thieves (solo acoustic version)
Label: Wild West Productions
Online: www.ronkeel.com
Hardrock Haven rating: 9.1/10