Shadowkiller | Slaves of Egypt
by Justin Gaines
– Senior Columnist/News Editor —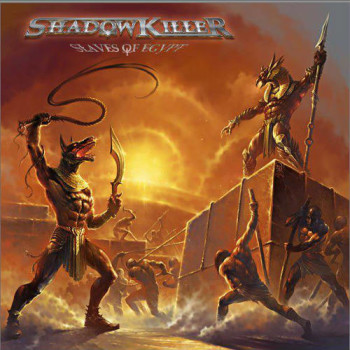 California-based progressive power metal band Shadowkiller made their debut in 2013 with the Stormspell release Slaves of Egypt. The band, which features vocalist/guitarist Joe Liszt (Rocka Rollas), play a heavier, more complex brand of power metal than their European counterparts, but with no less energy, and have a strong traditional heavy metal backbone.
Shadowkiller eschews the simple hyper-melodic approach here, which is great in that nobody's going to call them Helloween knock-offs, but it means they have to deliver extra in other areas to make up for losing that easy accessibility. Instead, heavy chugging riffs and thundering rhythms dominate, albeit with a decided technical aspect. There's still a melodic side to Slaves of Egypt, but it's the heaviness that makes the biggest impression. Well, that and Liszt's powerful, Urban Breed style vocal delivery, which often steals the show. A bit more melody and polish might have helped the album, as it takes a couple of spins to get into Slaves of Egypt, but the songwriting, lyrics (focusing largely on sci-fi and fantasy themes), musicianship and vocals are all solid. Highlights include the epics "Heart of Judas" and "The Human Project," and especially the title track.
While Slaves of Egypt never really crosses into "essential" territory and probably won't satisfy fans of the more melodic European power metal sound, fans of American progressive/power/traditional metal bands like Pharaoh, Sacred Oath, Division and to some extent Sanctuary. There might be some crossover appeal to fans of Evergrey and Tad Morose as well. Shadowkiller delivers a solid debut overall, and will bear watching in the years to come.
Genre: Progressive Power Metal, Heavy Metal
Band:
Dan Lynch (b)
Gary Neff (d)
Marc Petak (g)
Joe Liszt (v) (g)
Track Listing:
1. Slaves of Egypt
2. Heart of Judas
3. Seven Kingdoms
4. Seconds From Salvation
5. On The Other Side
6. On These Seas
7. A Walk In Reality
8. Savior
9. Visions in the Eclipse
10. The Human Project
Label: Stormspell Records
Website: www.facebook.com/shadowkillerband
Hardrock Haven rating: 7/10