SHEAR To Release 'Katharsis' In March on Lifeforce Records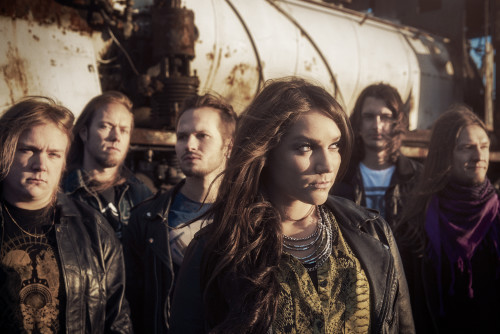 Finnish metal/rock act SHEAR will release its second album, "Katharsis", on March 24 in Europe and on April 1 in North America via Lifeforce Records. The artwork for the CD was created by TEXTURES bassist Remko Tielemans.
"Katharsis" was recorded between April and October 2013 at Sound Supreme Studio and and 5by5 Studio, where the effort was also mixed. The mastering was handled by Mika Jussila at Finnvox Studios. The CD features a guest appearance by STRATOVARIOUS keyboardist Jens Johansson.
According to a press release, SHEAR "impresses with a mature and beneficial designed sound that is catchy and heavy at the same time. Just as important: SHEAR are playing authentic and honest music that is based on deep-seated emotions and a latent slope to great hymns. This is their 'Katharsis'. The chosen style is of subordinate importance for the effect of the perfectly balanced songs. Metal and rock come to fruition to create a Scandinavian heavy sound with a fresh approach and a convincing self-conception.
"Listening to 'Katharsis', you will fall in love with the charismatic voice of Alexa Leroux. But keep in mind: SHEAR is more than a female-fronted fairytale. Somewhere in between melodic metal, symphonic power and classical rock the Finns are heading for well-written and — simply — beautiful music with a unique charm."
SHEAR is:
* Alexa Leroux – Vocals
* Mikael Grönroos (CRYSTAL BLAZE) – Guitar
* Lauri Koskenniemi (THE NIBIRUAN, ELENIUM, CRYSTAL BLAZE, ex-IMPERANON) – Guitar
* Silver Ots (DEAD SHAPE FIGURE, THE NIBIRUAN, AMORAL) – Bass
* Lari Sorvo (CRYSTAL BLAZE) – Keyboards
* Juhana Karlsson (AMORAL, CRYSTAL BLAZE) – Drums