by John Kindred
– Publisher —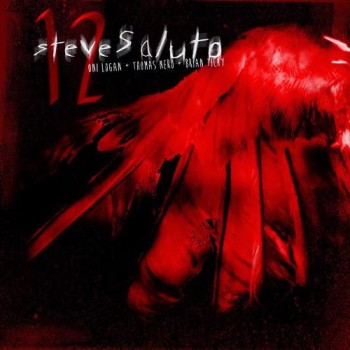 Italy's Steve Saluto has just released his latest 4 song EP titled 12. Saluto picked up the guitar at age 15 and began learning Jazz before hearing Eddie Van Halen's solo on Michael Jackson's song "Beat It." From there he quickly took to the rock genre. With 11 albums under his belt as a solo artist and performing in different bands Saluto has taken his diverse influences of jazz, funk, rock and pop, and created his own voice on the electric guitar.
With his latest release he joins forces with Oni Logan (Lynch Mob) and drummer Brian Tichy (Whitesnake) and bassist Thomas Nero. Together the group delivers bluesy-hard-rock tunes that lean on Logan's vocal strengths. Sonically the music is in line with George Lynch's band Lynch Mob. The 4 song EP not only showcases Saluto's skills as a guitarist and song writer but also displays his ability as a producer and engineer.
12 feature 4 diverse songs that while the foundations are rock Saluto isn't afraid to add atmospheric elements to the music. Starting it off with "Believer" with some electronica the music progresses into an up-tempo rocker that also has some industrial-rock influence. The song features a catchy vocal hook in the chorus and dynamic music shifts throughout. "Gone" is an acoustic driven number which a perfect vehicle for Logan's bluesy voice. This is an emotional song from the vocal to the bluesy solo that is reminiscent of John Sykes playing. "Bangkok" is an instrumental track which has definite George Lynch inspired groove. "Make You Mine" closes out the EP. The song starts with a modern rock vibe, a very subtle vocal hangs above a piano melody before punch into a heavy rock progression. The song moves between these textures pulling the listener along for the ride.
12 is a short but sweet introduction to Steve Saluto's musical world. With players like Logan and Tichy performing alongside Nero and Saluto it validates his music to his peers and fans. It would be nice to hear a full CD from this line up that Saluto has put together. 12 is an enjoyable ride.
Genre: Hard Rock
Line-up:
Steve Saluto (g)
Oni Logan (v)
Brian Tichy (d)
Thomas Nero (b)
Track Listing:
01. Believer
02. Gone
03. Bangkok
04. Make You Mine
Label: IMPUTLEVEL PRODUCTIONS
Online: http://www.stevesaluto.com/ – https://www.facebook.com/stevesalutoofficial
Hardrock Haven rating: 8/10