THE KICK-ASS PREMIERE OF "SEX MACHINE" BY BRUTE FORCZ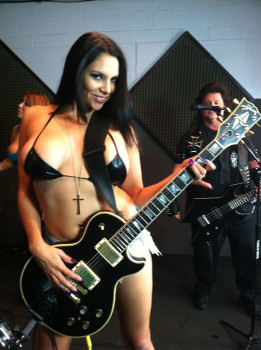 The moment you've all been waiting for – the premiere of Brute Forcz's "Sex Machine", featuring debauchery, NO fat chicks, and last but not least – the illustrious adult actresses Ava Devine and Missy Martinez.
Some things in life just seem to go together, for example, peanut butter and jelly, hot dogs and hamburgers, baseball and apple pie, and of course heavy metal music and porn. And speaking of heavy metal music and porn, the Los Angeles metal band, BRUTE FORCZ, has added to that combination. The group, featuring ex professional wrestlers, Slammer and Jammer, have just released their first video for the song, Sex Machine, from their debut album, "Out For Blood". The video includes super hot adult actresses, Ava Devine and Missy Martinez. The girls do their best to sensor the video, shaking, bouncing and exposing every boob, nipple and butt cheek possible.
(If you are not familiar with Missy and Ava, make sure you look them up.)
"It was incredibly HARD to remain focused, we felt like we were in the middle of a porn shoot, which by the way was f-ing awesome", says Slammer. Working close with Ava, we now know why she is considered a sexual legend in the business. And Missy, quite frankly, is beautiful and has the best pair of tits we have ever felt- i mean ever seen. (Slip of the tongue there). The girls vie for the title of the Sex Machine, and we still don't know who won the title, but it was a heavyweight battle with two of the absolute sexiest in the business. (Someone's going down).
The sensor patrol was working overtime during the shoot, states Jammer, but when the camera was off, things really got nasty. "These girls ooze sex from beginning to end, and that help make the video what it is." The video has a really unique twist at the end, so make sure you watch the whole video. It is an old school metal video, like back in the day, with just good loud music and hot, sexy looking women. "We will do another video to go with "Sex Machine" said Jammer, and having Ava and Missy in them, we will definitely keep you a breast when that happens."