The Ragged Saints | The Sound of Breaking Free
by Justin Gaines
– Senior Columnist/News Editor —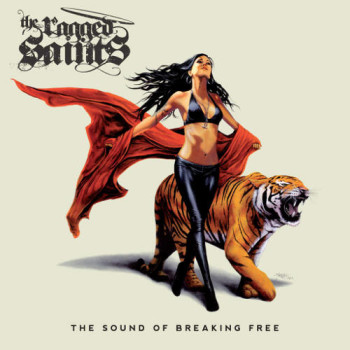 If you're looking for that melodic rock "surprise hit" of 2013, the album that sneaked in under the radar from an unexpected source (Germany's Power Prog label) and just blew away the competition, look no further than The Sound of Breaking Free, the 2013 debut from Finnish rockers The Ragged Saints. It's rare that a brand new, mostly unknown band can hit the scene with a near flawless debut album, but that's what The Ragged Saints have delivered here.
The band makes it clear that they're not trying to reinvent the wheel here. They're playing simple, straightforward melodic hard rock, and they do it with an irresistible style and energy. Points of comparison, in terms of style as well as quality level, are W.E.T., Giant, Pink Cream 69, Sunstorm and fellow Finns Free Spirit. The Sound of Breaking Free has such a classic melodic rock sound – the rocking, catchy hooks, the lush melodies, the choruses you want to sing along with instantly – that if it were a Frontiers release you'd expect to see Jim Peterik, Jack Ponti or Dennis Ward listed in the credits. It just has that veteran/all-star vibe.
The Ragged Saints cover all the bases here. There are eleven songs on The Sound of Breaking Free, all in the 3-4 minute range and none you could call filler. The guitarists find the perfect mix of flashy solos and fun melodies, the rhythms are tight, and vocalist Markku Kuikka has a combination of power and emotion that's very reminiscent of David Readman (hence the PC69 comparison). Actually, this is what Pink Cream 69's comeback album should have sounded like. Aside from a couple of detours into AOR and bluesy, Whitesnake/Voodoo Circle territory, this is very much in that classic 1989 melodic rock style.
Sampling even a few seconds of "Before Time Goes By," "Never Walk Away" or the title track (or hell, any other song for that matter) ought to be all it takes to sell you on this one. The Sound of Breaking Free is an absolutely fantastic debut and a real melodic rock gem from a band that should be on every melodic rock fan's radar in the years ahead. Had it crossed our paths earlier it would have been a definite Top 10 of 2013 contender. Is it too early to start wishing for a second Ragged Saints album?
Genre: Melodic Rock
Band:
Tomi Julkunen (g)
Tony Bite (g)
Jukka Hoffren (b)
Miikki Kunttu (d)
Markku Kuikka (v)
Track Listing:
1. The Sound of Breaking Free
2. A Place Where I Belong
3. Don't Let Me Go
4. I'll Never Give Up on Love
5. Love Won't Fade Away
6. We Are the Same
7. While the World is Burning
8. New Beginnings
9. Never Walk Away
10. Before Time Goes By
11. The End
Label: Power Prog
Website: www.theraggedsaints.com
Hardrock Haven rating: 9.5/10