by Deb Rao
– Senior Columnist —
Just like a Phoenix rising up from the ashes Saliva is gearing up for a triumphant return to the music world. The band is gearing up for a U.S. tour slated to kick off on February 28th in Orlando. Saliva will be performing in Russia.
Saliva's new CD Rise Up will be released April 29th Via Rum Bum Records. Rise Up features new singer Bobby Amaru who first joined the band in 2011. Rise Up is a powerful release chalked with captivating vocals, inspiring lyrics, and powerful guitar riffs. The release is a cross between Limp Bizkit meets Papa Roach meets Shinedown. Rise Up marks the Re-birth of Saliva. Saliva is destined to make a great new impact garnering new fans across the globe.
In this Exclusive interview for Hardrock Haven. Singer Bobby Amaru discusses the re-birth of the band, the new album Rise Up and upcoming tour! Plus Bobby gives Hardrock Haven fans an exclusive track by track of Rise Up.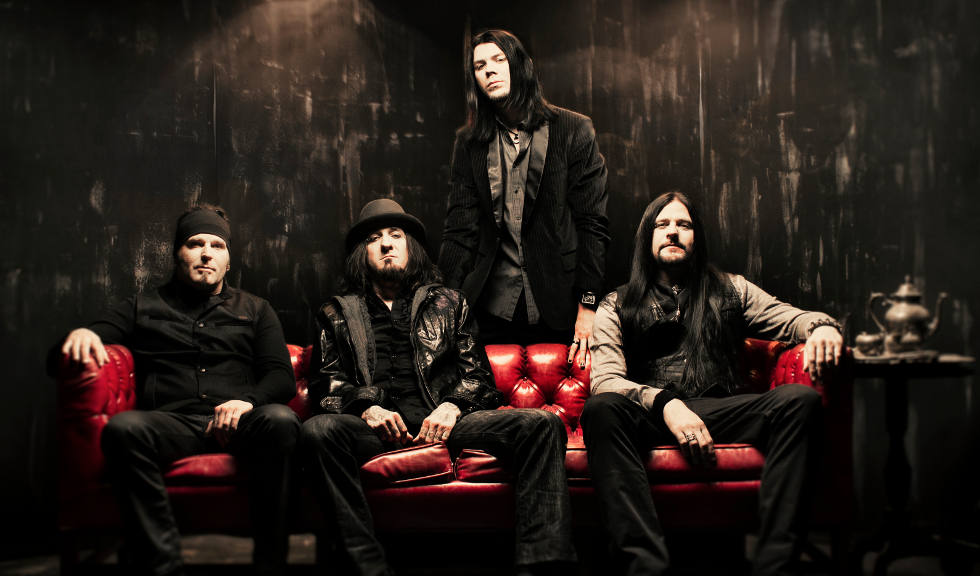 HRH: Bobby, congratulations on the new gig. I listened to the album last night. It sounds Amazing. Tell us how this all came about?
Bobby: Thank you. The band and I have several mutual friends that are in the business. They were kind of looking for a new singer. My name had kind of come up a couple of times. They checked out my stuff. That was pretty much it.
HRH: Tell us about the writing process for Rise Up. There are no filler tracks on this album. Every song is so strong. How involved were you in the writing?
Bobby: We all were involved. We all pretty much wrote everything. That is kind of the way the process works. There are some ideas that I brought to the table. There are other ideas that we started fresh on. Whatever was going to make the best songs. That is all we cared about.
HRH: Over how long a timetable did it take to record the album?
Bobby: We wrote for two weeks straight. Then we recorded. It was about six weeks total for writing and recording. We recorded the record in Nashville. The mixing was in Orlando.
HRH: As the new singer, what do you hope to bring to the plate? It is kind of like the re-birth of the band.
Bobby: Yes. We pretty much spent the last couple of years touring. I joined the band December 2011. We started touring February 12th, 2012. We toured all year and then our deal. We tour all last year. Then our record is coming out. We are going to tour all this year. It is definitely a re-birth of the band. Everybody is feeling great. There is definitely a new energy. I feel that I bring a good amount of energy to the live show.
HRH: The album kind of reminds me Limp Bizkit meets Papa Roach meets Shinedown. How would you describe your sound?
Bobby: All those bands are very successful. That doesn't hurt my feelings. (Laughter)
HRH: Tell us about your musical history.
Bobby: I started as a drummer. I was a drummer in a band called Burn Season. We had a deal with Electra. That was kind of short lived. I kind of started doing my own thing where I played guitar and sang. Then I got the call to do Saliva. That is pretty much it.
HRH: That is awesome. I loved the way the album mixes the melodic with heavy tones. There are more ballad type songs like "Closer" to the heavy cuts like "Rise Up." The ballads are really strong.
Bobby: For sure. "Lost" is one of my favorite songs. That and "Closer." I think there is a little bit of everything. Saliva always had a melodic touch. We wanted to capture the right amount of rock songs. We also wanted to make sure the record was balanced with a few of the slower ones.
HRH: Now Saliva is heading out on tour February 28th commencing in Orlando. I read the band is also going to Russia.
Bobby: Yes, we are going to Russia. We are going to tour pretty much a lot. The first show is in Orlando with Cold. We are doing a radio thing. We are kind of working our way up. There is the Mid West Stop; there is a Vegas stop.
HRH: Yes, the Vegas date is April 19th at the Las Vegas Country Saloon It is going to be awesome. Are you doing a meet and greet for the fans after the show?
Bobby: We always do.
HRH: You mentioned you recorded the album in Nashville. What was that like? Who was the producer that you worked with?
Bobby: His name was Bobby Huff. He did a lot of writing. He is a good writer. That is how we came across him with a band that he worked with recently. He is a really cool guy. We weren't really looking for that A List producer. We wanted someone to care about the song writing process.
HRH: Rise Up is also on a new label independent label Rum Bum Records.
Bobby: They are an Independent label. They work much different than a major label. They let the band have more control. They don't say, you have to do it this way. Which is cool. They signed the band because they loved the band. That is kind of the way that went down.
HRH: How many new songs are you going to be playing on tour?
Bobby: I think right now we are at four. The rest will be all the old school stuff.
HRH" Is there anything else that you would like to say about the album Bobby?
Bobby: It will be out April 29th. I think everybody should buy it.
HRH: Yes, it is amazing. The song writing is strong. It is really radio friendly. There are no filler tracks on this CD. Every song is strong and stands on it's own. I will see you in Vegas. Best of Luck!
Track by Track of Rise Up by Bobby Amaru:
1. Rise Up – "Basically, it is about not regretting yesterday. Live it while you can. Don't take life for granted. Tomorrow could be gone. People overcoming challenges in life. Whether you are trying to get another job or work toward something."
2. She Can Sure Hide Crazy – "The title says it."
3. No One But Me – "Is a relationship song."
4. Lost –"Lost is someone battling addiction. Whether it be drugs or life related. It is saying you are lost for the last time. You are going to get through it."
5. 1000 Eyes – "Me and a friend of mine wrote that song based on The Walking Dead show. When I listen to it now, your thinking zombies and the whole end of the world type thing totally makes sense. But in the same time it could be somebody at war who has seen those types of things. I think it relates both ways."
6. Red Neck Freakshow – "Definitely a fun, raunchy, up tempo song. We were in the studio and I started coming up with different riffs ideas. Because I heard in my head, they were talking about doing a slate different type song. The producer might have mentioned that title. Then we kind of rolled with it. Everybody had their own input. We kind of just took things that we had seen on the road. It is kind of what are fans are about. It is kind of how we live and what we are about."
7. Choke –"It is in your face type song. Telling somebody to go shove it."
8. Army – "That is a fun arena type song. That is a song that me and a guy in Nashville wrote. We just kind of fun with it. We kind of based the song on one on one type confrontation deal. You're not going to take me down. "
9. Closer – "Is a relationship song."
10. In It To Win It – "That was kind of a statement song too. We were thinking footballs arenas. Something heavy but also lyrically would have that vibe. " 11. The Enemy –"That is kind of a relationship song. It is about somebody who is not over somebody else. They kind of use you to get over somebody else."
12. I Don't Want It –"That is another one kind of overcoming the addiction thing. It is a song that Wayne wrote."
Visit Saliva online: www.facebook.com/saliva
For all the tour dates visit www.saliva.com.