FERREIRA "V" out March 17 on MelodicRock Records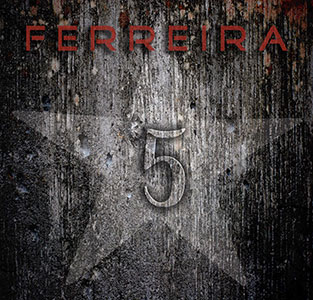 MelodicRock Records is very pleased to confirm the release date for the anticipated new Ferreira album V , which will be released via MelodicRock Records/Cargo Distribution on March 17.
Pre-orders will be available shortly. Those pre-ordering will be the first to get the new release prior to the 17th.
Track listing: 01) Hit The Door 02) Heaven Is Her Name 03) No Friend Of Mine 04) Night To Remember 05) Midnight Romeo 06) Don't Let Go 07) Leaving Town 08) That's The Way It Is 09) Superstitions 10) Sometimes Love's Not Enough 11) In The End.
Ferreira is a band fronted by Marco Ferreira (Goodbye Thrill, Venturia) on the veins of Harem Scarem, Ratt, Motley Crue, Def Leppard, early Queen, Mr. Big, Dokken. Line-up: Marco Ferreira – guitars, vocal and keys, Alex Ferreira (Goodbye Thrill) – Drums and Backing vocals, Dario Seixas (touring and recording with Jack Russel's Great White, Firehouse, Crown of Thorns, Goodbye Thrill) on Bass and backing vocals.
The band's focus has always been on guitar riffs, big choruses, lots of harmonies and huge backing vocals….high energy songs all the way. Marco, Brazilian resident in US since 1996, has being putting music out as Ferreira since 2002 with the release of "Fallen Heroes" under the label Shire Records label. In 2009 the second album "Working Overtime" was released, followed in 2010 by the third release "Better Run!". Last was "Are You In?" in 2011.
Marco is also known by his other projects such as the singer of the French progressive metal Venturia with their debut "New Kingdom" in 2006 and 2009 with their second release "Hybrid" (with DVD live in Geneva) both under the label Lion Music; and of course singer/guitarist and main songwriter of the US band Goodbye Thrill with three albums: 2007 (S/T) and "Keepsakes"(double with live acoustic DVD) and "Outrageous" both released in 2010 under Kivel Records label.
V was produced, mixed and mastered by Marco Ferreira at Playrec studio in NY.
Marco: "This is the fifth Ferreira release. Very proud of the new songs and the new label behind it. My first review ever was published on a still baby melodicrock.com by Andrew. We kept in touch over the years though all my projects (Goodbye Thrill, Ferreira and Venturia) and that page turned out to be what it is today. Going stronger year after year. More than 10 years later here we are. We grew together in this crazy business, and we survived without never compromise. All fans of Ferreira andGoodbye Thrill won't be disappointed. I got my boys Dario Seixas (Jack Russell's Great White, Firehouse, Goodbye Thrill…) killing on the bass and Backing Vocals and my little brother Alex Ferreira (Goodbye Thrill) thundering on the Drums and Backing Vox and Myself on Vocals, guitars, Acoustic guitar and keys.
Thanks to Andrew of MMR, there was no rush on this album, instead an exchange of ideas and suggestions such as the opening intro (I was never a big fan of intros) but the one on the CD is exactly what was missing. I also had a pleasure to co-write one of the songs on with our record label mate Marc Farrano of Faith Circus. It came out GREAT!! Lots of work but great results, makes even more special. All production was done at my Playrec studio in Orangeburg, NY, from the writing to mastering. We took care of each second of every tune. The album is now finalized and will soon be out. We can wait to share it with all our fans out there!"