GIVEAWAY! | Win a copy of Steve Black's autographed book From Black To Light

The Chop Shop's Steve Black and Hardrock Haven are giving five lucky persons a autographed copy of his autobiography From Black To Light …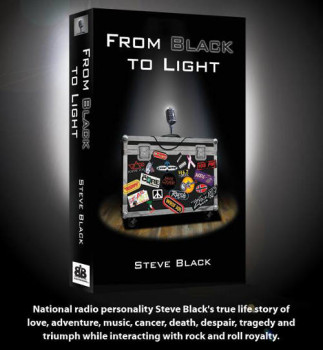 Steve Black, host of the nationally syndicated radio shows The Chop Shop & The Chop Shop Classic, has written From Black To Light, a book that chronicles his true life story of love, adventure, music, cancer, death, despair, tragedy and triumph while interacting with rock and roll royalty!
The Chop Shop is America's Guitar Radio Show, hosted by Steve Black and heard in over 52 cities – visit www.chopshopradio.com
The Chop Shop, America's Guitar Radio Show, offers a Rock and Classic Rock version of the show that features music from such bands as Black Sabbath, AC/DC, Rush, Led Zeppelin and Jimi Hendrix.
Hosted by longtime rock radio personality Steve Black, The Chop Shop honors rock's best axe men by inviting listeners to vote their favorite guitarist into the "Chop Shop Hall of Fame."
Each month a new inductee is featured on the website. Fans can download bios, mp3 audio salutes and original desktop artwork of the featured winner. The Chop Shop website includes information pages about each inductee, as well as the upcoming nominees for next month. Visit the Hall of Fame section on the website to see artwork featuring all current and previous inductees.
Include your name and mailing address!
Contest Ends February 28, 2014
If you are having problems with the above link send your an email to:
sblackgiveaway (@) hardrockhaven (dot) net
Purchase From Black To Light: http://dpztechnology.com/index.php/steve-black-books