Iron Knights Prepare for UK Tour; New Album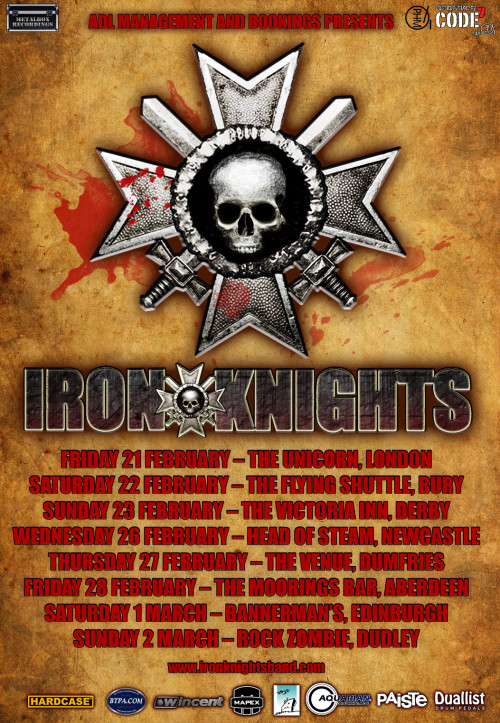 Iron Knights will be out on tour this month, playing 8 shows in the UK to promote their forthcoming new album (tentatively scheduled for an April release).
The band recently added guitarist Wayne Mann Iron Knight to their ranks.
February/March Tour Dates:
21 Feb – The Unicorn, London
22 Feb – The Flying Shuttle, Bury
23 Feb – The Victoria Inn, Derby
26 Feb – The Head of Steam, Newcastle
27 Feb – The Venue, Dumfries
28 Feb – The Moorings Bar, Aberdeen
1 March – Bannermans, Edinburgh
2 March – Rock Zombie, Dudley
Website: www.ironknightsband.com
www.ironknightsband.com
About the band:
Although the roots of the band can be traced back to 2008, the real change that has lifted the band to new heights took place at the end of a European support tour with Vicious Rumors in May/June 2013. From the original Iron Knights, bassist Paul 'Beam' Robbie and drummer Larry Paterson were the sole survivors. Their respective musical journeys have been linked since they formed their first band in New Zealand in 1983: Aftermath. Since then they have appeared in numerous bands, both in New Zealand and the UK where they eventually relocated at separate times over the decades that followed. Amongst the various musical adventures that followed, they were both members of UK bands Metalhead and Chokehold, after which Larry spent years with former Iron Maiden vocalist Blaze Bayley. Eventually they were musically reunited once more in Stuka Squadron, which subsequently became Iron Knights leading to June 2013. With half of the original Iron Knights' ranks depleted, they soon recruited two highly experienced veterans on the UK metal world into the fold.
With the rhythm section in place, the search remained for guitarist and vocalist to bring the Iron Knights to life. Enter Jamie Gibson. Jamie began his musical journey at the age of 13 when he began torturing a guitar, influenced by such legends as Zakk Wylde, 'Dimebag' Darrel, Nuno Bettencourt, Steve Vai and Joe Satriani. By the 1990s he had also started to develop a vocal style that took him from guitar to lead vocalist in Possession and then the Iron Maiden tribute Hi-on Maiden (where he was once joined on stage by original Maiden vocalist Paul Di'Anno). However, following his tenure there he armed himself with a 7-String Ibanez and searched for heavier sounds, forming Koncept for the ensuing ten years as well as appearing the ranks of other Midlands-based bands. The familiar story of disenchantment with aspects of music led to a brief hiatus before he was rescued from normality by an angry drummer with whom he co-formed Caiman.
With Jamie handling both guitar and vocals the last piece of the jigsaw was an extra guitarist to thicken the sound. Wayne Mann, of Chemikill and Paralytica, has come aboard to fill in the final piece of the jigsaw. Now complete, the band are mid-way through recording their next album, due for release in 2014.
Iron Knights have toured the length and breadth of the UK, as well as accompanying Vicious Rumors on their European Tour. To open this fresh chapter Iron Knights have already released a free download of new track 'Destroyer', available exclusively through the official website www.ironknightsband.com. The band's first live appearance was on 14 September in Andernach, Germany, as part of the Swordbrothers Festival, followed by a support show with Uli Jon Roth and Diamond Head.
Once the album is finished the open road beckons once more….