by Deb Rao
– Senior Columnist —
February 21st, 2014 at Vamp'd in Las Vegas, NV. —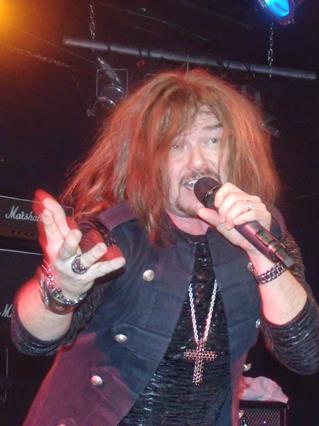 It is hard to believe that it has been four years since the untimely death of the legendary Ronnie James Dio on May 16, 2010. The iconic singer inspired so many people. It is so inspiring that the Dio Disciples are keeping the music of the Dio genre alive. Singer Mark Boals stated the other night in Las Vegas, "That so many people think of Dio Disciples as a tribute band. But they are not a tribute band. There are actually three members of Dio in the band."
Dio Disciples invaded Las Vegas premiere concert club Vamp'd on Feb. 21. Die hard Dio fans flocked to the performance. Dio Disciples is comprised of ex-Yngwie Malsteem singer Mark Boals, Singer Oni Logan, ex-Yngwie Malsteem bassist Bjorn Englen, Dio keyboard player Scott Warren, Dio guitarist Craig Goldy, and Dio drummer Simon Wright.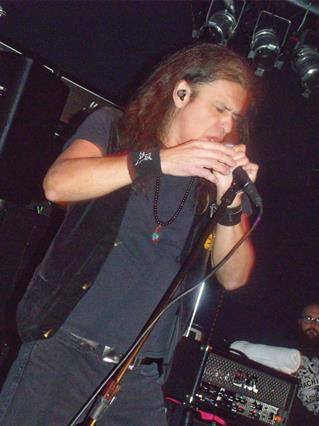 The band hit the stage at 11:30 P.M. and performed a solid 90-minute set of Dio classics and a few Black Sabbath songs. They kicked off the night with "Killing The Dragon/Holy Diver." Fronted by two amazing frontmen in Mark Boals and Oni Logan, the Dio Disciples kicked into high gear. Each singer took turns singing the classic hits. On some songs both singers joined forces. Singer Mark Boals was a ball of energy and brought all of the Dio majesty to the band. Mark has an amazing vocal range and killed it! Singer Oni Logan vocal style resembles a young Ronnie James Dio.
The band sounded so strong unleashing all of the Dio hits including "Last In Line" and "Stand Up And Shout." The rhythm section of Simon Wright and bassist Bjorn Englen was thunderous. Guitarist Craig Goldy, who was recovering from the flu, cranked out all of the classic Dio riffs. It was so great to hear all of the Dio songs once again. These classic hits have lasted the test of time.
Highlights included "Man On The Silver Mountain", and the heavy "Heaven And Hell." Dio Disciples performed two encores as fans chanted DIO, DIO, as the band returned to the stage for "Rainbow In The Dark" and "We Rock."
Be sure to check out Dio Disciples on tour. As the music of Ronnie James Dio forever lives on with the Dio Disciples. I was so fortunate to see Ronnie perform with both Dio and Heaven And Hell. It is a memory that I will always treasure.
Special Thanks to the Dio Disciples for making this review possible.
Set List:
Killing The Dragon/Holy Diver
I
Egypt/Gates Of Babylon
Last In Line
Stand Up And Shout
Tarot Woman/All The Fools
Neon Knights
Catch The Rainbow/Kill The King
Long Live Rock And Roll
Man On The Silver Mountain
Heaven And Hell
Encore:
Rainbow In The Dark
We Rock
Visit the band online: www.facebook.com/diodisciples