by Anabel Dflux
– Senior Photojournalist —
February 15th, 2014 at The Troubadour in West Hollywood, CA. —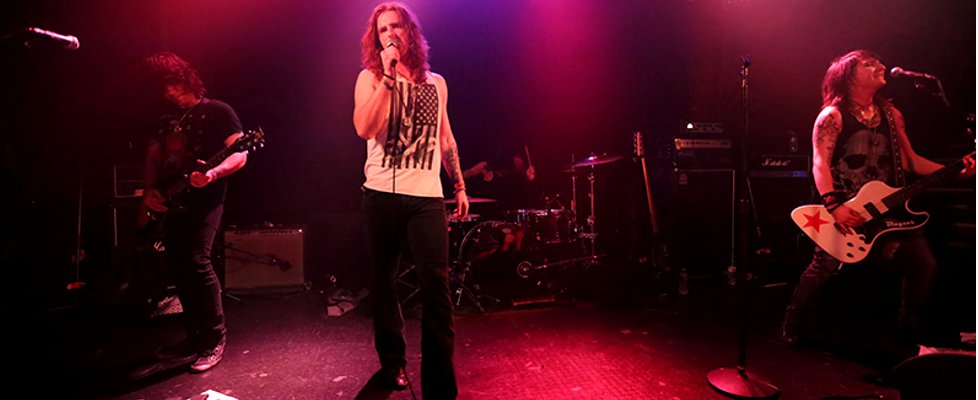 One of the most eccentric and energetic bands in Hollywood, Love and a 38 took over The Troubadour on Santa Monica Boulevard on February 15th, 2014. Playing a fairly late show, but absolutely worth the wait, this four piece rock band gave the audience a show worth remembering. With music reminiscent of old-school rock and roll, maybe even a smidge of southern in there, Love and a 38 embodies all the fun you can possibly have listening to music. With riffs you can dance to and beats you cannot stop moving with, if you want fun, this is the band to catch.
The show opened with a darkened venue and a haunting melody from Disney's Pirates of the Caribbean, an unexpected twist for those that aren't familiar with the members of this band. Instantaneous to the ending of the pirate tune, a heavy guitar note hit the venue and out came Love and a 38, with a wild, raw energy that made the crowd scream. Standing on three light boxes at the front of the stage, the lighting was outrageously awesome. With all of the band mates jumping, prancing, and never being complacent, concert goers found themselves breaking out into full dance all over the venue. It was a party!
Each member of this veracious band seemed to have quite the bond with one another. It's rare to find an act in which each band member is in sync with one another, a genuine friendship. Bassist Justin Emord found himself partnering up with guitarist Domo Domaracki in classic rock n' roll style, giving the crowd exactly what they were craving. Vocalist Ryan Hudson engaged each music enthusiast in the house that night, and danced the night away with each song. A light hearted, enthusiastic smile graced his face the entire performance. Drummer Danny Excess was extremely passionate on the drums, ostentatiously spinning the sticks in between beats.
If you missed this show, well, you better catch the next one! Don't miss out on Love and a 38!
Members:
Ryan Hudson – Vocals
Justin Emord – Bass
Domo Domaracki – Guitar
Danny Excess – Drums
LIVE! | Love and a 38 Concert Photo Gallery