by Anabel Dflux
– Senior Photojournalist —
February 5th, 2014 at House of Blues in Hollywood, CA. —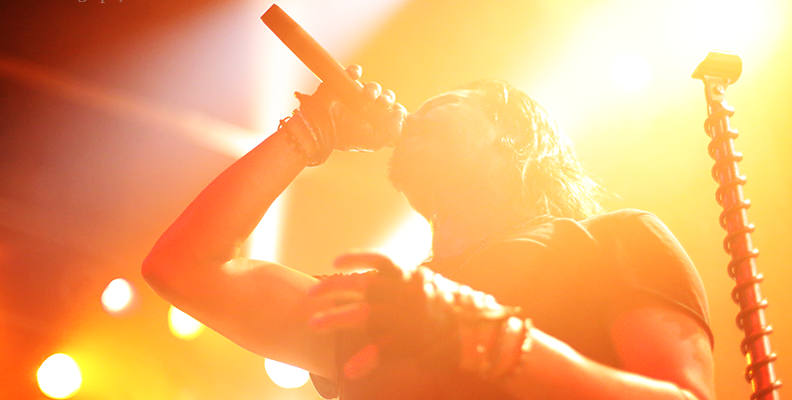 Pop Evil put on an electrifying show at the House of Blues, Hollywood. Opening for Stone Sour, Pop Evil was a sight to see. The crowd went wild for these musicians, and the vibe in the room was absolutely thrilling. Tours often pair musical acts that don't relate to each other- but this time, Pop Evil and Stone Sour complimented each other brilliantly. If anything, this show seemed to have two headliners, rather than one.
Pop Evil is no stranger to the limelight, having had their music played on major television networks, winning awards, and touring with some incredible rock acts, this band was right at home in Hollywood. Giving the audience a tremendous light show, the performance was both theatrical and raw at the core.
Lead vocalist Leigh Kakaty bellowed out some impressive vocals and truly got the crowd riled up. Fans were jumping, throwing up the horns, and having the absolute time of their lives. Guitarists Davey Grahs and Nick Fuelling danced the evening away with dramatic moshing and absolutely gorgeous instruments. Drummer Chachi Riot looked absolutely stoked on his drum set, throwing down impressive beats at an outstanding rate. Bassist Matt DiRito was a natural up on that stage. It's not often that you see a band play in such great unison- Pop Evil definitely set the bar for live performances.
Band Members:
Vocals: Leigh Kakaty
Guitar: Davey Grahs
Guitar: Nick Fuelling
Drums: Chachi Riot
Bass: Matt DiRito
Set List:
Deal with the Devil
Hero
Flawed
Torn 2 Pieces
Goodbye My Friend
Sick Sense
Boss' Daughter
Last Man w/Eye of the Tiger
Trenches
LIVE! | Pop Evil Concert Photo Gallery