Livin Fire | Under The Spell
by Alexandra Mrozowska
– Columnist —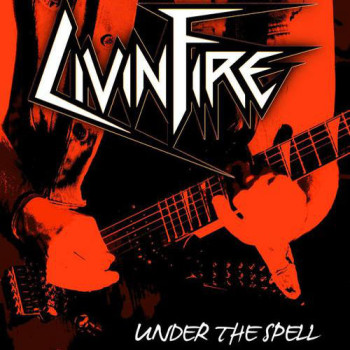 What the recent years have brought – apart from the obvious '80s nostalgia and the trend of retromania – is the growing number of contemporary rock/metal acts and young musicians who don't deny their classic hard rock roots (and their having a soft spot for the '80s music scene as well.) On the contrary, even their oldschool, retro-influenced sound speaks volumes about their musical upbringing! One of such is Livin Fire, a Cracow-based female-fronted quartet from Poland. And although one may associate the '80s with the "candied", pop-oriented and radio-friendly rock/metal, what Livin Fire successfully adopts is the toughened sound, heavily inspired with the New Wave of British Heavy Metal music aesthetics. The sound on their first EP Under The Spell is feisty and straight-in-your-face, deeply rooted in the classic metal acts of the almost forgotten era.
Under The Spell opens with an eponymous instrumental track – and so starts a listener's journey back into the world of the '80s heavy metal. It continues with "Vampire's Kiss", perfectly representative to the band's actual potential – it introduces the band's charismatic lead singer and guitarist Alda Reï belting out the following verses in her aggressive manner as well as the powerful instrumental section. Rough and unpolished though it is – there is a certain catchiness to the track's chorus, clearly inspired by the unforgettable rock hooks of the '80s era.
"Lone Wolf", the second song on the album, starts off with an intense drum line joined by a feisty guitar riff, yet – the track turns out to be slightly weaker than its predecessor. "Torn" sounds like a Dio-era Sabbath outtake, with its characteristic, "elephant marching" riff – and there is an interesting dialogue between the screechy guitar and a pumping bass in "Witch". "The End" follows the scheme of its predecessors – rough, screaming vocals and aggressive shredding against the background of a dynamic rhythm section, that is – the band's trademark sound and the one it will hopefully continue with in the future.
With their newly released EP, the female-fronted dynamic quartet from Cracow proves that they're worth a listener's attention. Although limited to five songs (and the instrumental intro) only, young musicians seized the opportunity to make out of Under The Spell a showcase of their potential (especially the lead guitarist J.K. Shredd and the singer, Alda Reï – who remind me at times of the early Lee Aaron records). Their music is nothing new and may be repetitive at times – but the power of this EP is in its old school, rough sound Livin Fire skillfully adopts. Anyone who is into the early Accept, Holocaust, Girlschool, Scorpions etc. as well as female-fronted hard rock/heavy metal should acquaint themselves with their material. Recommended.
Genre: Hard Rock, Metal
Band line-up:
Alda Reï – vocals, guitar
J. K. Shredd – lead guitar
Alvaro – bass
Matt B. – drums
Tracklist:
1. Under The Spell
2. Vampire's Kiss
3. Lone Wolf
4. Torn
5. Witch
6. The End
Label: Independent
Website: https://www.facebook.com/livinfire
Hardrock Haven rating: 7/10