Lover Under Cover | Into The Night
by Joe Mis
– Senior Columnist —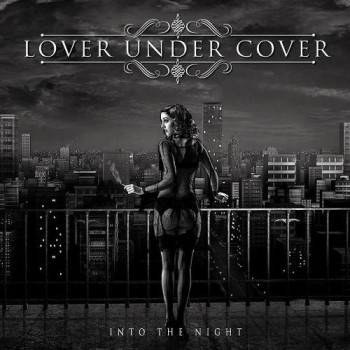 The Swedish near-supergroup Lover Under Cover has just released Into The Night, a solid follow up to 2012's debut Set The Night On Fire. Despite this being a sophomore album, the members of Lover Under Cover have many decades of experience, and it shows in all aspects of their new CD. If you like soaring guitar lines, tight bass and drum work, strong vocal harmonies and music that is just plain fun and always melodic, Lover Under Cover's Into The Night should be high on your list.
Lover Under Cover's roster reads like a "Who's Who" of Scandinavian hard rock and metal: Mikael Erlandsson (Last Autumn's Dream, Salute, Secret Service), Mikael Carlsson (Rain), Martin Kronlund (Phenomena, Gypsy Rose, Dogface), and Perra Johansson (Coldspell). LUC's roots go back to 1982, when Erlandsson and Carlsson played together in the band Rain. They kept in touch and finally the stars aligned enough to allow these two brilliant musicians to truly begin their collaboration, eventually leading to LUC's 2012 release. They bring a huge amount of experience together and display the influences of Coldspell, Last Autumn's Dream, Treat, and a number of other Scandinavian rock acts, but their music is truly their own.
"A Fight" kicks the CD into high gear immediately. Like most of the other tracks it is built around slick vocal flows and energetic rhythms and riffs contributed by drums, bass, and guitar – with a healthy but not overdone dose of keyboards. Erlandsson's natural vocal rasp is well suited to the music, and the entire band seems fired up and ready for the rest of the tracks. Punchy riffs and great drum work leads into the smoky and blues-rock tinged "Into The Shadows", a barn-burner track with an old school feel to it. Erlandsson's vocals are top notch, and Johansson's drums push the rest of the band to keep pace on what is arguably the best song on the album. "Miracle" has a bit of a pop rock feel, akin to something Bon Jovi or Hardline might do. The band covers Martika's "Toy Soldiers" decently, but this track is so different from the others on the album it is a bit jarring when it hits. "Crushing Stones" dials the intensity and grit levels back up, but maintains a bit of an 80s feel with strong keys and vocal performances – think Gotthard.
"Life Is Easy" has great rolling groove under a simple lyrical flow and low key guitar riff. Guitars and keyboards work to perfection on this track. "Playboy No. 7" features some neat Hammond keys and a very bouncy drum line, nut the lyrics seem a bit repetitive – not one of the stronger efforts. However, "The Game Is On" is pure grit, one of the heavier tracks, and it is filled a smoldering intensity thanks to excellent guitar / keyboard coordination and great bass work. "Fantasy Man" is a decent low key rocker with an outstanding guitar solo, while "Closer To The Truth" is a cheerful and upbeat track with a great counter rhythm between laid back vocals and intense guitars. "No Place Like Home" wraps up the release in a kicky blues rock manner, with the band focusing on the only thing that matters – family. This final track features some amazing guitar works and a will be the band's sing-along masterpiece.
There is no doubt – Into The Night is a great melodic rock album. The well written songs are only enhanced by flawless performances, enthusiastic delivery, and the precise engineering done by Martin Kronlund. Unlike the implications of the band's name, Lover Under Cover shouldn't stay hidden. These guys rock, plain and simple, and Into the Night will most likely land on a number of top 10 lists by 2014's end. Lively, energetic and fun, this album is the epitome of melodic hard rock. Very highly recommended!
Genre: Melodic Hard Rock
Band:
Mikael Erlandsson (vocals, keyboards)
Mikael Carlsson (bass, keyboards, guitars, backing vocals)
Martin Kronlund (guitars)
Perra Johansson (drums)
Track Listing:
1. A Fight
2. Into The Shadows
3. Miracle
4. Toy Soldier
5. Crushing Stones
6. Life Is Easy
7. Playboy No. 7
8. The Game Is On
9. Fantasy Man
10. Closer To The Truth
11. No Place Like Home
Label: Escape Music
Website: http://www.loverundercovertheband.com/home
Hardrock Haven rating: 9/10