Roenwolfe | Neverwhere Dreamscape
by Justin Gaines
– Senior Columnist/News Editor —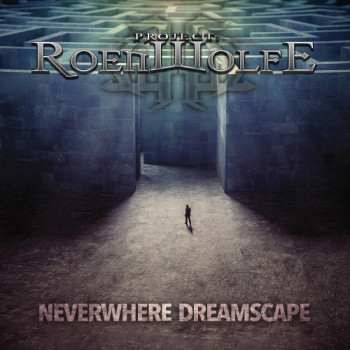 The second wave of Divebomb Records' new Bootcamp series is here, and unlike the first wave, which focused on bands from decades past, this wave puts the spotlight on new bands whose demo releases didn't get the attention they deserved. The first band in the series is Project Roenwolfe, a two-man band featuring multi-instrumentalist Tony C. and vocalist Patrick Parris. The band released their full-length debut Neverwhere Dreamscape digitally last year, and now it is getting a proper CD release.
Neverwhere Dreamscape is an album that will cause jaws to drop. Mixing power and thrash metal isn't anything unusual, but hearing it executed so perfectly from a young, mostly unknown band is really impressive. The songs are very well written, with a nice balance of speed, power and melody, the sci-fi inspired lyrics are fun, the musicianship is very strong (especially the guitar work, which is razor-sharp), and the vocals really steal the show. Parris has a great high-range wail with just enough grit underneath – think Sanctuary-era Warrel Dane plus James Rivera, and Tony C's occasional harsh vocals add a measure of intensity at just the right moments. All of these elements come together perfectly for an album that will satisfy on an emotional and intellectual level – depending on how much you tend to geek out over Dexter and Battlestar Galactica, that is – as well as a more primal, fist in the air and head banging level.
Divebomb's Bootcamp reissue of Neverwhere Dreamscape includes two bonus demo tracks and is limited to 500 units. More importantly it puts this overlooked modern gem in the hands of those of us who still believe music should be held as well as heard.
There are a lot of newer bands that play this kind of power/thrash hybrid, but very few who do it at the level Project: Roenwolfe does. They bring to mind the best of Sanctuary, Helstar, Vicious Rumors and Iced Earth, but with an identity and energy uniquely their own. If power and speed are your two most essential elements in a metal album, you absolutely do not want to miss Neverwhere Dreamscape. Here's hoping this is not the last we hear from this very promising young band.
Genre: Power Metal, Thrash Metal
Band:
Tony C. (g) (b) (d)
Patrick Parris (v)
Track Listing:
1. 3093
2. Split the Rings of Saturn
3. Roanoke
4. Broken Drum
5. My Dark Passenger
6. Proclamations for Devastation
7. Media Affliction
8. Neverwhere Dreamscape
9. Bad Blood
10. Travellers of Destiny
11. Trader of Pain
12. Universal Mind
13. Prisoner of War
14. Alchemic Design
Label: Divebomb Records
Website: www.facebook.com/ProjectRoenwolfe
Hardrock Haven rating: 8.75/10