Silent Force | Rising From the Ashes
by Justin Gaines
– Senior Columnist/News Editor —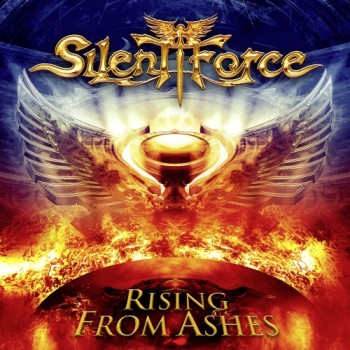 It's been seven long years since we last heard from (mostly) German power metal band Silent Force. The band gave every indication that 2007's Walk the Earth was their farewell album, so fans were shocked when Silent Force announced late last year that they were returning with a new album, appropriately titled Rising From the Ashes. The band also features an almost totally revamped lineup this time around. The most notable change is that vocalist DC Cooper has been replaced by veteran melodic rock singer Michael Bormann (ex-Jaded Heart), but bassist Mat Sinner (Primal Fear, Sinner) and keyboardist Alessandro Del Vecchio (Edge of Forever) are also on board. Of the original Silent Force lineup, only guitarist Alex Beyrodt and drummer Andre Hilgers remain. Bormann, Hilgers and Beyrodt had previously worked together on the pre-Silent Force project The Sygnet, so there is already some chemistry here.
The lineup isn't the only thing that has changed here. With Rising From the Ashes, Silent Force has gone from their power metal style to a more melodic hard rock direction. It's a bit of a shock at first, much like it's a shock hearing a Silent Force album without DC Cooper's voice on it, but Beyrodt already has a proven track record at writing great melodic hard rock songs with his other band Voodoo Circle, and he does that here as well. And of course Bormann is no stranger to melodic rock, so Rising From the Ashes will definitely remind listeners of those early Jaded Heart albums. It also has a very strong similarity to Pretty Maids, which is never a bad thing.
This is a remarkably strong album. There are ten songs, and they're all completely killer melodic hard rock songs, full of catchy melodies, driving rhythms, powerful vocals (including some fantastic background vocals) and just the right amount of keyboards. "There Ain't No Justice," "Before You Run" and "Kiss of Death" are highlights, but there really isn't a weak moment to be found on Rising From the Ashes.
It's definitely not the Silent Force fans are used to, but there's still a lot to love about Rising From the Ashes. Power metal fans might want to sample it before buying, but fans of Beyrodt's work in Voodoo Circle, Bormann's other projects, or European melodic hard rock in general ought to love this album. Silent Force has more than earned a place among bands like Pretty Maids, Jorn, Evidence One and Pink Cream 69.
Edition Notes: The limited digipack version of Rising From the Ashes includes the bonus track "I'm Gonna Rescue You."
Genre: Melodic Hard Rock, Melodic Metal
Band:
Alex Beyrodt (g)
Michael Bormann (v)
Mat Sinner (b)
Alessandro Del Vecchio (k)
Andre Hilgers (d)
Track Listing:
1. Caught in Their Wicked Game
2. There Ain't No Justice
3. Circle of Trust
4. Living to Die
5. Before You Run
6. You Gotta Kick It
7. Turn Me Loose
8. Born To Be a Fighter
9. Anytime Anywhere
10. Kiss of Death
Label: AFM Records
Website: www.facebook.com/silentforceofficial
Hardrock Haven rating: 8.75/10