Starsoup | Bazaar Of Wonders
by Joe Mis
– Senior Columnist —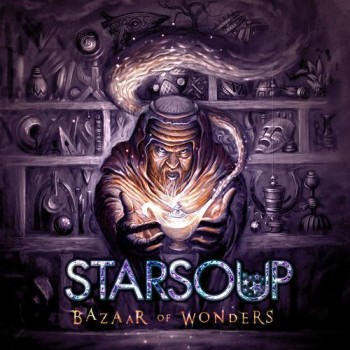 Starsoup's Bazaar Of Wonders lives up to its name in a number of ways. This Russian studio project fronted by singer and guitarist Alexey Markov (Shadow Host, Distant Sun) is indeed a bazaar of styles, and some tracks are indeed wonderful, but the music is so varied that the album as a whole is a bit soupy – with bits and chunks of genres tossed into the same pot. There are pure metal tracks, ballads, power metal, progressive rock songs, and just about everything else mixed well, making the release seem more like a compilation than a unified album. The music is heavily guitar driven, with nice layers of keyboards and vocals that range from soft and gentle to Metallica bellows – and all delivered with technical perfection and unbridled enthusiasm.
"Angels" is a soaring progressive metal track that gives Markov and fellow guitarist and bassist Ilya Mamontov a chance to stretch right from the start. The piano and keyboard work of Andrew Gryaznov complements perfectly, and the almost atmospheric bridge is incredibly effective. Markov's aggressive vocals give the track a Metallica meets Bullet For My Valentine feeling, which works well, and the guitar teamwork is fabulous. "Ain't No Superman" opens with a funky, bluesy riff dripping with energy, pushed by massive bass and drums. Elements of progressive and rap metal are rolled in, making this one an interesting and varied track – a definite toe-tapper, but the stylistic mash-up might not appeal to all. "Try" is a nice ballad clearly influenced by Dream Theater, allowing Markov to dial it back and sing softly. Expressive acoustic guitars and soft pianos open "Cradle Of War," while plaintive sax samples add to the dark and sad mood of this heartbreaking tribute to the fallen. Interesting arrangements and instrumentation keeps this long track lively as it builds in power.
"Rumors of Better Life" is a mostly acoustic slow rocker with somewhat sappy lyrics, but it is executed well. "Past Bites" is one of the heaviest tracks on the release, and it features a massive guitar and bass groove on top of an intricate layer of percussion. Growling guitars and growling vocals are the thing here, and once the steamroller chorus kicks in this track becomes the standout. "The City and the Stars" is a very short but good power ballad, while the instrumental "Bazaar" brings in some heavy riffs, intense slap bass, wild keyboard samples of Middle Eastern sound effects, and odd tonal structures.
"Voices of the Wind" is a simple piano and vocal piece that seems more like it should be an intro track to another song, or a reprise of the rest of the album. It definitely does not belong in the middle, but the vocals here are simply jawdropping. "Road to Sunset" is a radio friendly mid-tempo commercial rocker that is decently done (nice sax!), but it seems very out of place. Gears shift tremendously once again on "Perfect Loser," a keyboard and drum driven progressive track with very guttural vocals – perhaps think James Hetfield singing a Fates Warning song that has been rearranged by Steve Vai. The album closes with the instrumental "Rain in the Desert," a mellow and haunting piano piece – one that firmly demonstrates that Andrew Gryaznov is much more than a supporting keyboardist.
Overall, Bazaar Of Wonders is an interesting album with many high points. Musically solid and diverse, Starsoup's official debut is a good one. Starsoup's mix and engineering is very good, and the band functions as a well oiled, veteran machine, unusual for a debut release. Their technical prowess is undeniable. The one negative is the massive range of styles and genres contained within. While fine for a demo, the mix of styles may make it hard for the band to build a loyal fan base until they decide whether they are metal, commercial, progressive, or even art rock. Once they pick a genre, Starsoup will definitely be in a position to push boundaries, so keep an eye on them! Fans with broad musical tastes will enjoy almost every moment of "Bazaar Of Wonders," but those looking for a specific genre will be left wanting more.
Genre: Progressive Metal
Band:
Alexander Vetkhov – Drums
Ilya Mamontov – Guitars, Bass
Alexey Markov – Guitars, Vocals
Andrew Gryaznov – Keyboards, Samples
Track Listing:
1. Angels
2. Ain't No Superman
3. Try
4. Cradle Of War
5. Rumors of Better Life
6. Past Bites
7. The City and the Stars
8. Bazaar
9. Voices of the Wind
10. Road to Sunset
11. Perfect Loser
12. Rain in the Desert
Label: Sublimity Records
Website: https://www.facebook.com/Starsoup, http://sublimity.bandcamp.com/album/bazaar-of-wonders
Hardrock Haven rating: 8/10