The Dollyrots | Barefoot & Pregnant
by Derric Miller
– Managing Editor —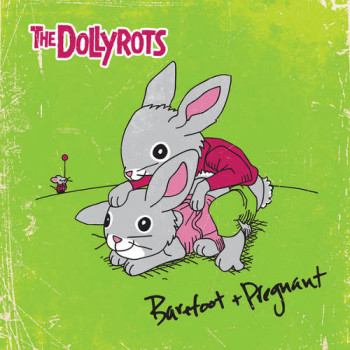 Is there anything more punk than telling labels they can eat it, and then putting out two records in a row independently using Kickstarter and then PledgeMusic? Well, that's what the kick ass duo known as The Dollyrots have done with their last two releases, their self-titled 2012 release and their brand new CD, Barefoot & Pregnant. (Note: Singer/bassist Kelly Ogden was pregnant during the recording of the release but reports are unclear if she wore clogs, moon boots or anything on her feet during recording sessions.)
Instead of building on their songwriting and branching out stylistically, like their did on their last release with mainstream songs like "South of the Border," After 2012" or "Time Will Stop," it seems the duo wanted to go back in time to before their biggest hit "Because I'm Awesome" and just release a raw punk (but still pop) album. For those who saw the growth before and thought you could maybe portend some greater mainstream global attraction this time, you'll view this as a step back. But for those faithful who have been with them since the beginning, this is most likely exactly what you asked for.
Kicking it off with "Come and Get It," the noisy guitars from Cabezas are almost enveloped by the massive bass and rhythm section from Ogden and drummer Stacy Jones. There's a whole lot of thumping going on here, kids. What offsets this massive bottom end is the youthful vocal delivery of Ogden, who brings a snarky innocence to everything she sings. At just over two minutes, it's a drive by anthem.
"Stupidly in Love" is exactly what makes The Dollyrots so … well, awesome. While a simple construction, it's the chorus that has you bopping around like you are in a blitzkrieg. (Yes, that's called foreshadowing.) Also, if you are a huge fan of The Cars, this may remind you a bit of their hit "You Might Think." It's the groove during the verses that may make you harken back mentally to a more The Cars-y time. Easily could be a hit, like most of the songs on Barefoot & Pregnant.
By the time you reach "First World Anarchist" you realize that The Dollyrots are embracing that whole "punk" thing and are blasting it to the world. Just using the word "anarchy" in a song announces your punk intent. "I drink my wine from a beer stein … I wear my shades in the nighttime," Ogden sings before the solo. OK, so they are having fun with the theme—that's what makes The Dollyrots fun to the nth-degree.
There's a lot of sort of '70s pop vibe going on with this release as well. Had they covered Alan O'Day's "Undercover Angel" you could play it right before "Puppy Dog Eyes" and then you'd say "obviously." It seems that instead of writing contemporary pop songs, if they go pop, they go a few decades back … at least three or four anyway. Since they are known for covers like "Brand New Key" or "Be My Baby," they've already proven they excel at this and it makes them that much more … Dollyrots-y.
The title track is a frenzied mess (in a good way) with Ogden almost speed-rapping her lyrics. While not the most musical composition it's one of their few songs you can actually bang your head too. It's hilarious, and with Ogden singing about all of her weird cravings while pregnant, it's autobiographical as well.
Probably the one song that can compare with their more "mature" recordings like the aforementioned "South of the Border" is "Nightlight." Ogden has a way of singing with a yearning, with a sentiment of being bereft and she wants whatever she lost back. It just sounds authentic. While Ogden did not test her vocal tone or range as much as she did on their past release, this is certainly as close as you'll get.
But really, who cares? They wrote "Worstie!" Known for their ability to point a musical middle finger at the unoriginal masses, like "F U Famous," "Because I'm Awesome," "Pretty on the Outside" and plenty more, "Worstie" picks up the slack and pulls like mad. If you can listen to lyrics like "You were my bestie, until you messed with me … now you're my worstie!" or the refrain "From first, to worst" without smiling, hopefully they write a song about you next time around.
Ending the album with a cover of the The Crystals hit "Da Doo Ron Ron"—which was also made famous by the teen heartthrob Shaun Cassidy in 1977—and then flowing right into The Ramone's "I Wanna Be Sedated" is most likely the best way to end any album, ever.
Barefoot & Pregnant is a strong release for all of the above reasons, and when you start looking at this band's back catalog … it's starting to impress. Whatever the reason they decided to musically devolve a bit instead of continuing to evolve—or go back to their roots instead of continuing to pen songs in the vein of "Time Will Stop"—it's still a The Dollyrots album and they seem physically and mentally incapable of ever recording anything that isn't infinitely likeable.
Genre: Punk, Pop Punk
Band:
Kelly Ogden: lead vocals, bass
Luis Cabezas: guitar, vocals
Stacy Jones: drums
Tracklisting:
1. "Come and Get It"
2. "Stupidly in Love"
3. "First World Anarchist"
4. "Get Weird"
5. "Puppy Dog Eyes"
6. "Barefoot and Pregnant"
7. "Bury Me in Ireland"
8. "Nightlight"
9. "Under the Same Sky"
10. "Worstie"
11. "Homecoming"
12. "Angel in the Snow"
13. "Da Doo Ron Ron-Sedated"
Online: www.thedollyrots.com
Hardrock Haven rating: 7.9/10