Vanishing Point | Distant Is The Sun
by Deb Rao
– Senior Columnist —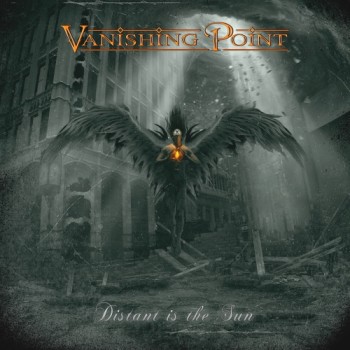 Vanishing Point is a band that hails from Australia. They are gearing up for the release of their fifth CD Distant Is The Sun via AFM Records on March 4 in North America. There is always something intriguing about bands that hail from the land of down under.
This time around Vanishing Point stick with their progressive roots and unleash an album full of powerful riffs and captivating melodic vocals. Vanishing Point released their last album in 2007. This album exemplifies the high quality of musicianship that surround the band. The album flows with not only compelling guitar riffs but also has lyrics that are wrapped around the great vocals of Silvio Massaro. If you are a big fan of the '80s, you will love this album. The band's style is reminiscent of Iron Maiden and House of Lords.
Opening track begins with guitar intro "Beyond Redemption." The band then lunges into the heavy progressive guitar and driving vocals on "King Of Empty Promises." The first five songs give their span on broken relationships with lyrics that make you stop and listen. The band definitely writes from the heart. Title track "Distant Is The Sun" is a killer with lyrics that ring "How Can You Walk Away?" This song pulls at your heartstrings.
Special guest star Tony Kakko sings on the song, "Circle Of Fire." Track number 7 "Let The River Run" has a Styx vibe. The song starts out accapella and then progresses with a flurry of guitar riffs and moving vocals. Vanishing Point is also huge on power ballads as reflected on "Story Of Misery." Another great ballad is "As December Fades." The tail end of the album is engaged with speed metal. Then "Distant Is The Sun" closes with an acoustic fingerpicking ballad "April."
It is so refreshing to hear such inspired lyrics intertwined with moving vocals and progressive guitar riffs. The music is majestic and uplifting. Hopefully, this album with the band will give them a second chance and opportunity to be heard. It would be great to see them tour in the U.S. Vanishing Point were the first unsigned band to perform at Wacken Festival in Germany.
Genre: Heavy Metal
Band Members:
Silvio Massaro – Vocals
Chris Porcianko – Guitars
Simon Best – Bass
Christian Nativo – Drums
James Maier –
Track Listing:
1. Beyond Redemption
2. King Of Empty Promises
3. Distant Is The Sun
4. When Truth Lies
5. Circle Of Fire
6. Denied Deliverance
7. Let The River Run
8. Story Of Misery
9. Era Zero
10. Pillars Of Sand
11. As December Fades
12. Handful Of Hope
13. Walls Of Silence
14. April
Label: AFM Records
Website: www.vanishing-point.com.au/
Hardrock Haven Rating 8/10