Baltimoore | Back For More
by Alexandra Mrozowska
– Columnist —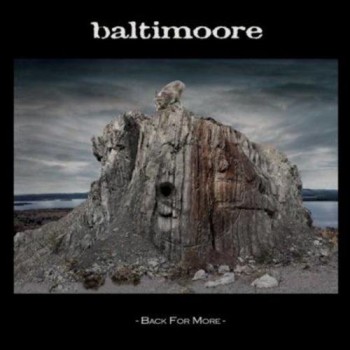 If you ever wished the mellow power ballad "Ballerina" off Baltimoore's debut album had been your prom song (or if you're completely stuck in the '80s to the point of rocking out to AOR gem "Blue Moon"), forget it. Gone are the days of mild AOR-ish tunes; the Swedish hard rock act led by charismatic Björn Lodin, called by some "a Swedish response to David Coverdale," returns with a much updated and rejuvenated sound. While not entirely separated from its predecessor (2009's Quick Fix) sound-wise, Baltimoore's newest release Back For More sounds heavier and more aggressive. And be more than sure, that this time the Swedes are not going to look back and dwell upon their melodic rock past.
The album starts with "Cry Out For Innocence," a good representative to the album's slightly Purple-esque at times (Hammond usage), but definitely contemporary sound. Raw and gruff vocals accompany fast-paced guitar riffs and dynamic rhythm section, making the track a right choice for an album opener. "Don't Say No" is a solid piece of contemporary, aggressive hard rock in vein of modern-day Winger. Deliberate or not, the track's powerful groove, melodic but heavy guitar riff and Lodin's great raspy vocals ultimately remind one of the direction the above Americans took musically with their 2009 album Karma (and which they continue now).
More or less the same recipe Baltimoore uses with further songs on the album: "Are You On To Me," a track very aggressive sound-wise, and "Gun Of Doom" brilliant with its lumbering, marching riff and a strong chorus. And yet, as for more melodic, mid-tempo songs, "Break Into Something New" and "Means To An End" leave a listener with an impression of songs' melodic potential somewhat wasted.
"Sunshine In The Rain," on the other hand, is another mid-tempo, polished enough to be almost AOR-ish; a bit of a throwback to Baltimoore's earlier days (but very contemporary nevertheless). For guitar aficionados, there are plenty of tracks enriched with very interesting riffs and licks: "Until The End Of The Line," a slower "Say It Like It Is" and the folk-inspired title track, which again develops into a piece of contemporary hard rock.
Baltimoore's recent album Back For More proves the title's not incidental – the Swedes are back for more indeed, and ready to attack. Aggressive and heavy as perhaps never before, the band approaches their 30th anniversary marching into their future, with no traces of nostalgia for what is gone with the glorious '80s. Back For More is definitely about the future, not the past – and although this may be at times disappointing for the fans of the band's early albums, the new album proves that the potential is still there. And Baltimoore's contemporary heavy straight-in-your-face rock incarnation is at least convincing, if not interesting. Recommended for every hard rock fan not stuck in the past and not too nostalgic about what was "cool" in rock music two decades ago.
Genre: Hard Rock
Band:
Björn Lodin – vocals/guitar
Klas Anderhell – drums
Mats Attaque – guitar/vocals
Weine Johansson – bass
Örjan Fernkvist – keyboard
Tracklist:
1) Cry Out For Innocence.
2) Don't Say No
3) Until The End Of The Line
4) Are You On To Me?
5) Break Into Something New
6) Means To An End
7) Gun Of Doom
8) Sunshine In The Rain
9) Say It Like It Is
10) Back For More
Label: BLP Music
Website: http://www.baltimoore.net/
Hardrock Haven rating: 7.5/10