BROTHER FIRETRIBE to Release Diamond in the Firepit June 3rd in North America on Spinefarm Records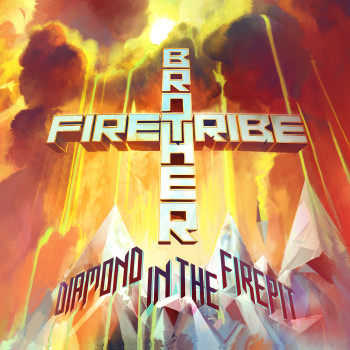 First Single, Artwork and Track Listing Revealed
Some say that a diamond can be made to sparkle even brighter by placing it into a fire pit for a while. Well, Finland's melodic rock heroes BROTHER FIRETRIBE have apparently spent the last four years in the proverbial firepit, because now they've returned with some pretty shiny tunes!
Diamond in the Firepit, BROTHER FIRETRIBE's third full-length album will be released June 3rd in North America, May 3rd in The United Kingdom and May 2nd in Finland/Europe via Spinefarm Records. Today the band has revealed the artwork and track listing for Diamond in the Firepit as well as released the first single "For Better or For Worse" which can be streamed HERE.
The single is available for purchase digitally on iTunes HERE.
Singer Pekka Ansio Heino spoke about the band's upcoming release:
"We're thrilled to be back in action after 5 years which seems like a life time! We wouldn't be THIS thrilled if the new album hadn't turned out be exactly how we wanted it to be. It's just as bold, big, polished, hooky and sticky as we pictured it. A lot of hard work was spent making it happen and now it's time for the best part of making music; taking it out and playing it live. We can't wait to meet our old friends again and hopefully make some new ones along the way. Hope you enjoy Diamond In The Firepit. Thanks for still being there and sorry for the delay, let's have some serious fun!"
Diamond in the Firepit is chock-full of melodic rock ear candy; an unbroken string of eleven hits with glistening choruses, heavenly harmonies and lyrics brimming with larger-than life love. Sure enough, this album will be the soundtrack of the coming summer like its predecessors, for in times like these when the reality bites, the economy is down, people feel downtrodden and everyday life seems like a grind, we all need a shot of positive energy and a reminder that there's not a whole lot that can't be fixed with a smile and a song.
BROTHER FIRETRIBE will be touring extensively in support of Diamond in the Firepit. Currently the band has a CD release show scheduled for May 3rd in Helsinki, Finland at Virgin Oil Co and an appearance set for The South Park Festival in Tampere, Finland at
Eteläpuisto on June 7th. More dates will be announced in the coming weeks
Diamond in the Firepit Track Listing:
01. Intro
02. Love's Not Enough
03. Far Away from Love
04. For Better or for Worse
05. Desperately
06. Edge Of Forever
07. Hanging by a Thread
08. Trail of Tears
09. Winner Takes It All
10. Tired of Dreaming
11. Reality Bites
12. Close To the Bone
Line-up:
Pekka Ansio Heino – Vocals
Emppu Vuorinen – Guitar
Tomppa Nikulainen – Keys
Jason Flinck – Bass
Kalle Torniainen – Rummut
BROTHER FIRETRIBE Live:
5/3: Helsinki, FIN @ Virgin Oil Co.
6/7: Tampere, FIN @ Eteläpuisto