Delain | The Human Contradiction
by Joe Mis
– Senior Columnist —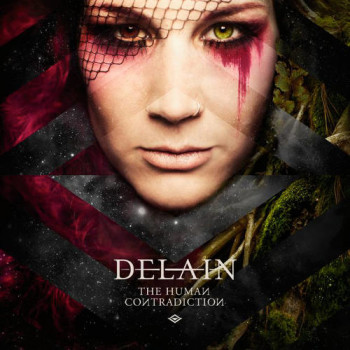 Dutch symphonic metal masters Delain are getting ready to release their fourth studio release entitled The Human Contradiction. The female fronted act dropped their last full studio album (We Are The Others) back in 2012, and their fans will more than likely feel that the wait was worth it. Delain has darkened their sound a bit, adding more Gothic elements and stepping up their usual symphonic orchestrations.
Ultra precise, musically perfect symphonic metal acts are nothing unusual anymore thanks to the plethora of modern recording techniques and hardware – in fact they're almost becoming the proverbial dime-a-dozen. As commonplace as genre is, Delain has something that truly sets them apart from the rest – the amazing vocals delivered by Charlotte Wessels. Wessels has a rich and passionate voice and delivery – one that runs the gamut from a soft and sexy whisper to a crystal clear full power blast, and she uses it very good effect. This of course takes nothing away from the rest of the band, which consists of keybord man Martijn Westerholt, bassist Otto Schimmelpenninck van der Oije, drummer Sander Zoer, and guitarist Timo Somers. The band plays well together – no surprise considering their now veteran status, and they are helped along by a superb and crisp mix. Nightwish's Marco Hietala also lends some vocal punch on two tracks, as does The Agonist / Arch Enemy's Alissa White-Gluz, and Celestial Season's George Oosthoek.
"Here Come The Vultures" is a dark and brooding track, heavy and Gothic – loaded with grunts and groans, booming bass, pounding drums, and blistering guitars – all of which contrast nicely with a number of light and airy keyboard riffs and Charlotte's smoky vocals. The band steps up the tempo and grinds out the anti-addiction 'Your Body Is A Battleground", a track featuring a nice vocal contrast between Marco Hietala's bellow and Wessels' flow – and some very solid guitar work. "Stardust" lets Charlotte push tot he top end of her vocal range and show off her technical chops, and it the liveliest and most upbeat track. More pop-metal than symphonic, it has an infectious, foot-tap inducing groove and a simple but effective rhythm line driven by keys and guitars.
"My Masquerade" also has a neat, catchy vibe and some slick guitars, but it is a bit lyrically repetitive and seems to run much longer than its 3:44 run time – probably the only track ends up a disappointment. Full on symphonic elements return on the epic "Tell Me, Mechanist." The music shifts from soft to course, light to heavy, and George Oosthoek's growls as The Mechanist are a wonderful counterpoint to Charlotte's sweet delivery – further emphasizing the theme of contrasts set up by the music. "Sing To Me" is a sad and melancholy meditation on life, death, and futility – and Hietala's vocal contributions are simply outstanding, as are Westerholt's keys.
"Army Of Dolls" brings back the pop overtones and upbeat rhythms. The flow of the chorus and layers of voices and instruments make this one of the more technical tunes, the bass and keyboard passage brings in a number of progressive touches. "Lullaby" features an amazingly heavy riff under slow and sensuous vocals, but the band adds in a few unnecessary elements with synthetic thunder rumbles and a few lines of distorted vocals that end up being distractions on what cold have been their strongest track. "The Tragedy Of The Commons" is an epic symphonic journey, driven by the numerous tempo changes and the excellent chemistry between Charlotte and Alissa White-Gluz.
The Human Contradiction is the next logical step in the evolution of the quintet known as Delain. Controlled without being static, heavy without being oppressive, light without being facetious, Delain has fully embraced the the concept of contrast and built an album out of it. Fans of the band will not be disappointed, and anyone into the symphonic or Gothic genres with enjoy the trip. Highly recommended!
Genre: Symphonic, Gothic Metal
Band:
Charlotte Wessels (vocals)
Martijn Westerholt (keys)
Otto Schimmelpenninck van der Oije (bass)
Sander Zoer (drums)
Timo Somers (guitar)
Guest musician: Marco Hietala (Nightwish), vocals on "Your Body Is A Battleground" and "Sing To Me"; Alissa White-Gluz (The Agonist, Arch Enemy), vocals on "The Tragedy Of The Commons"; George Oosthoek (Celestial Season, Doghouse Gallows), vocals on "Tell Me, Mechanist"
Track Listing:
1. Here Come The Vultures
2. Your Body Is A Battleground
3. Stardust
4. My Masquerade
5. Tell Me, Mechanist
6. Sing To Me
7. Army Of Dolls
8. Lullaby
9. The Tragedy Of The Commons
Label: Napalm Records
Website: http://www.delain.nl/
Hardrock Haven rating: 8 / 10