by Alexandra Mrozowska
– Columnist —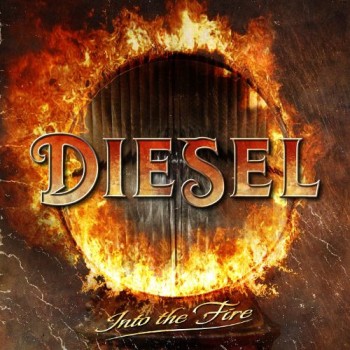 Were you awe-stricken by any of the W.E.T. releases, or Joe Lynn Turner's project Sunstorm? Were the classic records of the '80s era Rainbow, FM and Foreigner a soundtrack to your youth? And the most important issue, perhaps – do you treasure post-Rodgers era Bad Company albums as much as their classic '70s catalogue? If an answer to most of these questions was "yes," then most probably you have an incurable case of AOR/melodic rock-related affection. And if you do, watch out for a new hard rock supergroup Diesel – formed by Robert Hart (solo/Bad Company/Manfred Mann's Earth Band) and Jim Kirkpatrick (FM), the well-known names in the British rock scene.
Diesel's first album – Into The Fire – is a solid piece of AOR-ish hard rock, with equal focus on catchy melodies and outstanding musicianship. Considering Robert Hart's musical past, it seems logical that one subconsciously expects some traces of Bad Company's style in here. Hence, while one's thirst for catchy hook-lines and dynamic lead guitar work can be quenched with purely melodic rock-oriented tracks ("Love Under Cover" or "Bitter & Twisted"), there are also blues-flavored "So What Is Love", "What You See Ain't What You Get" or "Fortune Favors The Brave" to satisfy the most demanding Bad Co. aficionados.
And still, there is more to this record: an uptempo catchy rocker "Let's Take The Long Way Home" or the powerful "Told You So." The former can be suspected of becoming a future concert favourite among the audience; the latter portrays the band rejecting the "radio-friendliness" quality in favor of some notable instrumental, late '70s-like wizardry. Apart from the dynamism of tracks such as these above, or the next to last "Skin And Bone" (which might as well be a lost Turner-era Rainbow outtake), there are also mid-tempos ("Starting Over"), polished and ballad-esque, enriched with soaring guitars. And instead of delivering something particularly exciting for the grand finale, Diesel rather opt for evoking a sudden rush of nostalgia with the mellow final ballad "Coming Home." This mild ending, however, leaves a listener with the overall impression of Into The Fire being cohesive and diverse record and also, a testament to the involved musicians' abilities and maturity.
The greatest asset to this material, most probably, is that it portrays the musicians of Diesel as they succeed in striking a balance between the expected homage to musical tradition of their respective past (Bad Company, FM) and the contemporary AOR/hard rock sound. The result is that their music is neither "dated", nor modern – just a compromise between the two. As for the musical performance – again, the names of these involved in Diesel seem to speak volumes about their impressive musicianship proven years ago in different bands. However, one has to bear in mind that not every supergroup manages to meet the expectations of the hyped-up fans. Diesel certainly does, which makes Into The Fire an album recommended for every AOR/hard rock fan out there.
Genre: Melodic Hard Rock
Band:
Robert Hart – Vocals
Jim Kirkpatrick – Guitars, backing vocals, additional keyboards, percussion
Jimmy Copley – Drums
Pat Davey – Bass.
Additional musicians:
Adam Wakeman – Keyboards.
Steve Overland – Backing vocals, additional guitars (track 12)
Alisdair McKenzie – horns (track 5)
Track List:
1. Love Under Cover
2. Into The Fire
3. Starting Over
4. Fortune Favors The Brave
5. Brand New Day
6. Bitter & Twisted
7. So What Is Love
8. Lets Take The Long Way Home
9. Told You So
10. What You See Ain't What You Get
11. Skin & Bone
12. Coming Home
Label: Escape Music
Website: http://www.escape-music.com/
Hardrock Haven rating: 8.5/10