Electric Age | Electric Age
by Justin Gaines
– Senior Columnist/News Editor —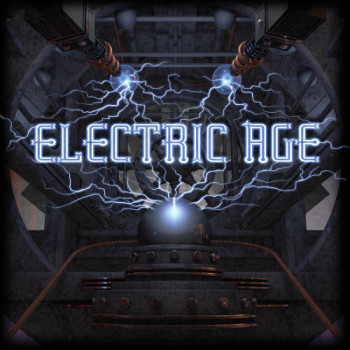 The second wave of Divebomb Records' new Bootcamp series is here, and unlike the first wave, which focused on bands from decades past, this wave puts the spotlight on new bands whose demo releases didn't get the attention they deserved. The final band in the series is Electric Age, hard rock band out of Sao Paolo, Brazil. Initially formed as a Deep Purple tribute band, Electric Age has an old school sound and an infectious modern energy.
The Electric Age debut EP is brief (just six songs totaling 25 minutes), but it still packs a classic rock punch. The band channels Deep Purple (obviously) as well as Uriah Heep and Rainbow, but with a modern vibe a la The Darkness or Rival Sons. It such a wild and unpredictable sound, and it's absolutely impossible to resist. They've got these big, bouncy rhythms, killer hooks and a vocalist who sounds like Michael Kiske on a blues-rock bender. Sample "Snake Eater" or "Good Times Are Coming" and you'll get an idea what's in store (and you should be thoroughly hooked on the band in the process).
Divebomb's Bootcamp CD release of the Electric Age EP is limited to 500 units and features new cover artwork and band-supplied photos in the full booklet.
It's pretty rare for a band to sound both instantly recognizable as well as completely new, but that's exactly what Electric Age achieves here. It's a short, unforgettable blast of classic rock, but in a way that's fresh and exciting. If this EP reaches the right ears, Electric Age could really take off. Check 'em out now and say you heard of them before they were stars!
Genre: Hard Rock
Band:
Luiz Felipe Cardim (g)
Rafael Nicolau (d)
Junior Rodrigues (v)
Track Listing:
1. Rise
2. Snake Eater
3. Echoes of Insanity
4. All Night Long
5. Good Times are Coming
Label: Divebomb Records
Website: www.facebook.com/ElectricAgeBand
Hardrock Haven rating: 9/10