by Derric Miller
— Managing Editor —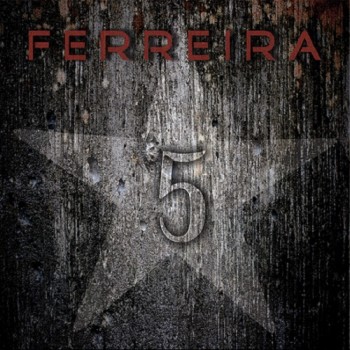 One of the nicest guys you'll probably never meet, Marco Ferreira, has just released his fifth studio release with his band Ferreira, and there has to be a story somewhere why on the album art there's the number "5" but the album is titled the Roman numeral "V." The other bandmates of Dario Seixas on bass and his brother Alex Ferreira on drums make for a talented trio, and point blank, this is the best Ferreira release yet.
Marco also produced, mixed and mastered V.
"Hit the Door" leads things off and it's a bit surprising, because the musical entrance 1:12 is without vocals. You don't really expect a Hard Rock band to have this sort of intro; certainly you could expect it from one of his other bands, Venturia. It works, though, and if you've ever seen Alex drum live, they somehow captured his maniacal power on these recordings and it adds an energy and brutality to these pop yet heavy sounding compositions. Marco has a chance to show his guitar prowess by starting with this kind of intro, and you'll be reminded the dude can do a hell of a lot more than just sing.
The first single is "Heaven is Her Name," and it starts with a bludgeoning rhythm, with Seixas shining. While the verses are a bit on the heavy side, when you hit the sticky, syrupy chorus, it creates a cool aural balance. "She's gotta be the one cuz I don't wanna run … heaven is her name," sings Marco. Sure, it's simple, but also catchy as all get out. It's one of the best songs on the release.
There's a bit of musical menace in "You're No Friend of Mine." Again, you'll hone in on Alex's drumming; it just seems like every musical component is brought to the forefront from a production standpoint on V and the sound is vigorous and immaculate.
One of the best riffs is on "Midnight Romeo." Just hearing the guitars open up, and then Alex bash the hell out of everything while Seixas is thumping on that bass gets your heart pumping and your liver begging for some more alcohol abuse. This is the musical equivalent of lightning in a bottle.
While that song is for the guys, "Don't Let Go" is definitely for the ladies. An acoustic led ballad, Marco actually sings in a bit more throaty style than you are used to him using during the chorus, adding some passion and intensity to the delivery.
Songs like "That's The Way It Is" might remind you a bit another kick ass band he was in, Goodbye Thrill, while "Sometimes Love's Not Enough" is just from the title the expectation of another ballad, but it's not. It does, though, feature another chunky riff that makes "Midnight Romeo" such a killer composition.
It all ends on … well, "In the End." That's good planning. This track is gloomy, it chugs along at a nearly uncomfortable pace, a rhythm like something Alice in Chains could drone at you. While obviously not a grunge track because that's not Ferreira, you'll hear something different than everything else on the album, and it's an interesting choice for inclusion on V.
You've read it before—"there's no filler on the album"—but sometimes that's the only way to write it. From start to finish, V is a polished yet powerful album. It's got everything you want in a Hard Rock, anthemic release, and the individual musicianship stands out on every track. So whether you call it 5 or Five or V doesn't matter; it's Ferreira, and it's really freaking good.
Genre: Hard Rock
Band:
Marco Ferreira-lead vocals, guitar, keys
Dario Seixas-bass
Alex Ferreira-drums
Track Listing:
Hit The Door
Heaven Is Her Name
You're No Friend Of Mine
Night To Remember
Midnight Romeo
Don't Let Go
Leaving Town
That's The Way It Is
Superstitions
Sometimes Love's Not Enough
In The End
Label: MelodicRock Records
Online: http://melodicrock.com/showcase/ferreira-five.html
Hardrock Haven rating: 8.5/10