Germany's GRINDER sees reissue via Divebomb Records
During the height of the worldwide thrash movement there were several epicenters of activity. While New York and the Bay Area were perhaps the most prominent, Germany's big three; Sodom, Kreator and Destruction were leading the charge on the European front. However, what some thrash fans may not be aware of is that there was a secondary stratum to that scene which had some phenomenal, albeit lesser known, acts recording some ambitious material. GRINDER were one of those bands who released three albums worth of "in your face" thrash/speed metal during their brief existence.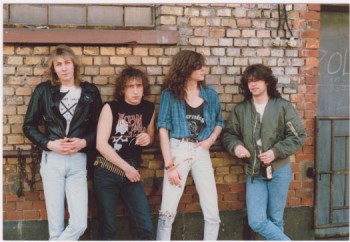 Divebomb Records is excited to present a deluxe edition of what we believe to be their most impressive album, Dead End, which features not only 9 bonus tracks but new interview and archival photos provided by the band members themselves.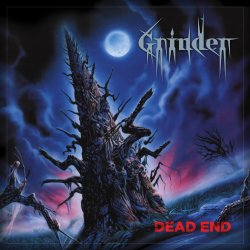 DIVE052
GRINDER: Dead End (Deluxe Edition)
CD IN STORES 3/11/2014
FOR FANS OF: FLOTSAM & JETSAM, REALM, METALLICA, SACRED REICH & MORDRED
POINTS OF INTEREST: 
+ 9 bonus tracks
+ Band supplied archival photos/show flyers (16 page booklet)
+ Brand new band interview
+ Restored original art by Andreas Marschall (BLIND GUARDIAN, SODOM, KREATOR)
+ Produced by Kalle Trapp (BLIND GUARDIAN, DESTRUCTION, KREATOR, DRIFTER, PARADOX)
+ First time on CD in North America
+ Out of print nearly 20 years
+ Limited edition
+ New mastering by Jamie King
+ Layout/Restoration by Adam Peterson (WATCHTOWER, EPIDEMIC and SOLSTICE)
TRACK LIST:
1. Agent Orange 2. Dead End 3. The Blade Is Back 4. Inside 5. Just Another Scar 6. Total Control7. Why 8. Train Raid 9. Unlock The Morgue
BONUS TRACKS: 
10. Reeling On The Edge 11. Incarnation Off 12. Truth In The Hands Of Judas 13. Hymn For The Isolated 14. The Spirit Of Violence 15. Nothing Is Sacred 16. None Of The Brighter Days 17. Dear Mr. Sinister 18. NME