by Alexandra Mrozowska
– Columnist —
Thirty six years after their debut record Kingdom of Madness hit the shelves and having released eighteen albums in total, Magnum – one of the finest melodic rock acts in the entire genre – returns with their latest effort Escape From The Shadow Garden. Alexandra Mrozowska talks to Magnum's bassist Al Barrow, focusing on the band's newest release as well as their upcoming European tour.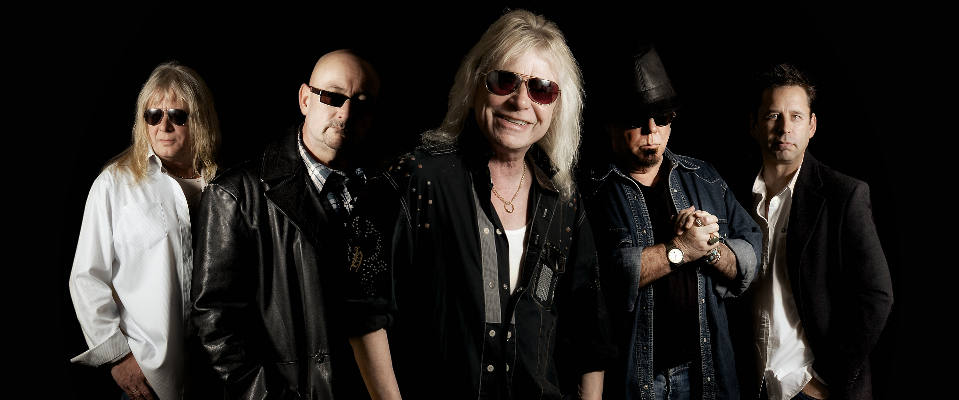 Hardrock Haven: Magnum's new album Escape From The Shadow Garden is the eighteenth release in the band's history. Are there any differences you spot between the band's newest effort and its predecessors?
Al Barrow: We always try to push forward with new albums, trying new ideas. We're not really a band that want to re-write the past albums. Although many have said this album has a retrospective feel this was not the game plan. We just tried to write and album that we enjoyed and hope that others do also. I'm not saying we are to forget any of the past albums. They have built us a very solid fan base of which we are grateful. We are a creative bunch in this band and like to move forward. We can always look back when playing the classics at live shows, but for new albums it's a new road we travel. I think this new album has some very cool songs on it, very guitar-driven in places, some great hooks and killer choruses. It's a very Magnum-sounding album but in a fresh way.
It's been less than two years since your previous album On The 13th Day was released. Weren't you tempted to take more time and slow down a bit, instead of releasing Escape From The Shadow Garden so soon after the previous one?
Al Barrow: It's about normal for us. Tony writes pretty much all the time. It's what he does and loves doing it. He finds he can work more now having technology at home as well as having the main studio.
Hardrock Haven: What has inspired the lyrics on the newest album?
Al Barrow: Tony Clarkin writes all the songs for Magnum but we discuss in depth what his thoughts are on the album. He explains that song ideas come from every aspect of life and observations of the world around us, be it via the TV or just overhearing a conversation in the street. He writes what he knows about, being much into history and world affairs. Although Magnum don't write politically motivated songs there are some lyrics that lean towards expressing how confused we are at times by the movers and shakers of this world making some of the decisions they do. Life gives us so much from day to day, sometimes even the quiet moments of our lives can deliver some quite thought-provoking moments. It's just remembering them and being able to put them to music in a way that's not cheesy.
Hardrock Haven: Which of songs on Escape From The Shadow Garden you'd consider your favourite(s)?
Al Barrow: That's always hard to say. Today it's "the art of compromise" – the day before I was learning a new track to play on the new tour. So that day I had a different favourite. It depends on mood. I have to say this album is full of outstanding tunes. What's been very cool is that the press have been reviewing it over the past weeks and virtually everyone has a different standout track mentioned, so this tells us this album appeals to people in many ways. Let's hope the fans feel the same.
Hardrock Haven: The artwork is done by Rodney Matthews, an established artist Magnum fans must be already familiar with, as he's responsible for many of the band's iconic album covers. What were the circumstances of creating the picture which ended up on the front cover of Escape From The Shadow Garden?
Al Barrow: Well, the ideas come from Tony. He invites Rodney up to the studio while we're recording the album. We sit down and discuss some ideas. Rodney will literally sketch as we speak. It's quite amazing to watch. What Rodney draws at that point goes on to develop in a matter of weeks. He then comes back with a piece of art. The overall feel is discussed right down to the finer details. On this album, you will see quite a few ideas that have been used on past albums but again taken and put in a fresh perspective. The fans that have commented seem to love this new piece and we think Rodney has done an amazing job.
Hardrock Haven: One of the editions of Escape From The Shadow Garden is CD+DVD Limited Edition. What can we find on the bonus DVD?
Al Barrow: Yes that will be the limited edition digi-pack. There are 6 live songs that were filmed on tour. They are filmed over 6 nights in different venues. There is also a montage video to go along with one of the new tracks "Too many Clowns" It does not look like we have a single as such for this album so I thought it would be cool to do a mix of some of the footage filmed by me and some by Tim Sidwell. Something that might look entertaining and good enough to showcase the band on social media site later on.
Hardrock Haven: Escape From The Shadow Garden was also released in the vinyl format (2 LPs)…
Al Barrow: Yes, it's something SPV have been doing for a while. We have all the past albums with SPV over the last ten or so years now on vinyl – it's great as you can really show off the artwork as it was meant to be. Again, it's a limited run, but fans seem to love them; even if people don't have a deck anymore, it's a nice product. But this one comes with an MP3 CD included, so everyone gets to hear it in whatever way you choose to play.
Hardrock Haven: A huge European tour is scheduled for the next two months – European/UK Tour, then a German leg with Saga, Sweden Rock appearance in June… Anything you look forward to in particular?
Al Barrow: We love to tour. Playing the songs we have spent a long time recording and rehearsing, it's great to get instant feedback from the crowd. It's all fine and dandy reading reviews but it's the noise of the crowd that really gets you, and makes us think we got it right.
Traveling can be fun and a little tiring. We don't party as hard as we used to so the days are more relaxed. There is a lot of sitting around not doing a lot all day while the show is being erected, then come the evening we do out thing. It's a great job, if you can even call it that. We get to run around on stage and make a noise and have a good time doing it, you can't get better than that.
We are very much looking forward to doing the double headliner dates with Saga, it's helped to get back in to some venues we have not been in for a while. This is going to be a lot of fun.
Hardrock Haven: What is your approach towards concert set lists nowadays? How representative are they to the currently promoted album?
Al Barrow: We love to play the new stuff. That's why we spend a long time on them. Making them as good as we can. We're not going to do a good album and then not play them live just to play safe with the set list and only play old songs. Some bands do that, that's fine for them, but as I said earlier we like to move forward but with a nod to the past.
We do spend many days going back and forth over what set we should play live. We aim to play 4 new tracks this time out. Were also doing some tracks we have not done for a while. Also some of the favorites to finish off the night so we hope to have every area of Magnum's history covered. It's hard to please everyone but we do try.
Hardrock Haven: During the UK leg of the tour, a London-based act NeonFly will open for Magnum. Any comment upon your current support act?
Al Barrow: We had the lads along on a German leg of a tour a few years back. They really did a fine job. Great players and a real nice bunch of guys. They have some very good albums to pick from to play live and they do that very proficiently. It's real nice to have them do the UK leg of dates with us. We think they will do a brilliant job, so get to the show early and don't sit in the bar, check these guys out.
Hardrock Haven: Speaking of NeonFly and other young acts, what is your view on the current music scene?
Al Barrow: We spend a lot of the time locked in the studio – writing Magnum material – so it does become a little isolated from the world. Driving to and from the studio is the only time we tend to listen to other music. I'm sure there are moments that a band you hear on the radio will slightly make an impression on you whether it be subconsciously or not. Technology is a great aid in writing and recording these days but many bands seem to use it to disguise a lot of their shortcomings. Sometimes it's very obvious, more so when you see them live and they just can't re-produce anything like what you hear on album. Also a good marketing team can make and break you. Lots of money to advertise will get you further than a good song will it seems.
It's easy to be cynical about new bands. As a band we all listen to very different styles. Tony likes old blues, Bob actual likes some very modern bands and not all rock, he likes a bit of dub also. It's good to have different likes and dislikes, it makes for good debate late night on the long bus rides on tour.
Hardrock Haven: Towards the interview's end, one retrospective question – of all Magnum albums, which of them remain(s) your favorite and why?
Al Barrow: That's so hard to answer. One thing we all tend to agree on is that we always say that the last album is the best. With this album we are all so very proud of this offering, it really does top anything we have done to date. We just hope the fans like it as much as we do and hope it does well. You can never say how these things will go but if the press reviews are anything to go by so far it's all looking very positive.
Thank you very much for the interview! Is there anything you'd like to add in the end?
Thanks for taking the time to ask questions about us and the band. We really do appreciate the time people give us. We do try to give our all and we hope you hear that with this new album. We hope to see you all on tour very soon and thanks for the continued support, folks!
Magnum online: http://www.magnumonline.co.uk/