Bill Leverty of Firehouse
by Derric Miller
– Managing Editor —
Firehouse guitarist Bill Leverty checked in with Hardrock Haven to talk about the band's upcoming tour dates, including the Monsters of Rock Cruise; playing live in the "YouTube" generation; his solo albums and side project Flood the Engine; why he also loves to sing; and a whole lot more.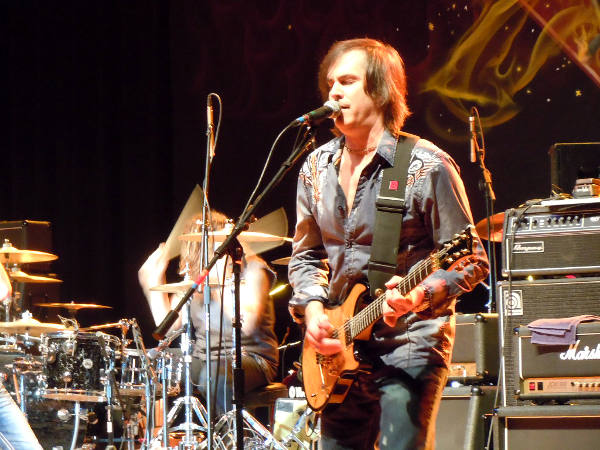 Hardrock Haven: Hi Bill, thanks for taking the time to talk with Hardrock Haven. To start with … I just saw you guys playing live in Mitchell, S.D. a couple weeks back and was quite honestly blown away. Every time I've seen Firehouse my whole life you guys were always consummate professional rockers and nearly note for note perfect, but there are bands that just don't have it any more, especially live, on stage. What do you attribute Firehouse's ability to bring it 100 percent, night after night, year after year?
Bill: I think that like many artists, we really just love what we do and challenge ourselves every night to have the best performance possible. After the show, we usually come into the dressing room and talk about what did right and, more importantly, what we did wrong. What worked, and what didn't work. We're always trying to improve.
HRH: Ron Keel has made comments about playing live in this "YouTube" generation, basically saying that if you give your all 99 percent of the time, that one time you do a bad show, it'll be all over the internet and the world in hours. Do you feel that kind of pressure when you play live?
Bill: I agree with Ron. Knowing that your performance is going to be up on YouTube with nothing to hide behind can be a little unnerving. I find that the best thing to do is to just forget about it. It's out of my control. The more I think about that, the more I tense up and make mistakes.
HRH: The band released your ninth studio album back in 2011 called Full Circle, which featured re-recorded Firehouse songs. Are there any plans in the works to work on a new studio recording?
Bill: No concrete plans at this time, but we are talking about it.
HRH: As a band, do you guys want to create new music? I mean, playing the hits from the end of the '80s and into the '90s is a draw for your fans, but as a musician, do you guys want to keep creating new music as well?
Bill: Yes we do. It's complicated though. I've put out four solo albums and I am working on my fifth. I've recorded other projects as well. I try to stay busy.
HRH: There's a label out there, Frontiers—you may have heard of them—and they are seemingly on their own helping the global resurgence of this sort of classic '80s and '90s sounding hard rock.
By signing bands like Pretty Maids, House of Lords, Whitesnake, Def Leppard, Winger, Mr. Big, Sebastian Bach, Stryper, King Kobra, KEEL and on and on, do you feel that the sort of music Firehouse plays is becoming a bigger draw? Do you feel that when the band is on tour?
Bill: Frontiers has signed a lot of bands from our genre and they've done a great job. I have felt a resurgence, but I think that it's more due to a vacuum of melodic rock music available to the fans, older and younger. I've actually been extremely happy with the large number of young fans that are coming out to our gigs.
HRH: Firehouse is going to be hitting the road for some major events, especially the Monsters of Rock Cruise at the end of March and of course headlining Firefest in the UK. Have you done a Monsters of Rock Cruise before, and what do you expect from the European crowd at Firefest?
Bill: Yes, we did The Monsters Of Rock Cruise 2 years ago. It was amazing. The people who organize this cruise are the absolute best in the world at creating a top shelf experience for every passenger on that boat. We've also performed at Firefest before. It's one of the greatest festivals in the world, and the guys who organize that event are also exceptional. In my humble opinion, the European crowd is very musically aware. They also love to hear music performed well. They are also very appreciative of the bands that perform for them. I think that they are generally more receptive to our harder edge music as well.
HRH: You are a prolific musician and have done solo albums, and you also have a side project called Flood the Engine. How does Flood the Engine differ from Firehouse in general, and what made you want to take on something like this?
Bill: Flood The Engine is a group of guys that I've known for 30 years, and we've always wanted to make music together, but, for various reasons, we couldn't get the time to make it happen. We finally got some time to write and record an album. It's different in that the influences are different and they are reflected in the music. It's blues-based melodic hard rock. I think that the album turned out very well, and has a very unique sound overall.
HRH: I've heard some of your solo releases and we've reviewed them on Hardrock Haven, releases like Southern Exposure and Wanderlust. It's almost an insult every time I tell you this, but I sometimes forget your talent or maybe we've just started taking it for granted. Do you feel underrated as a guitarist, or is that something you don't even pay attention to?
Bill: I can't allow myself to think in terms of how I'm rated by other people. I can only think about how I think of myself as a musician, and I think I have to keep practicing and learning in order to get to a point where I'm happy with myself as an artist. I eventually want to have a body of work that can be listened front to back by someone who has never heard of me; and, hopefully, that person will hear something that makes them want to listen again and again.
HRH: You sing lead vocals on some of your solo projects. What's it like to get behind the mic even if you are still holding a guitar? Is singing something you've always been comfortable doing?
Bill: I love to sing. I always have. I was in my church choir when I was 11. To me, singing is the most gratifying of any artistic expression. When you hear someone sing, you hear something very unique, revealing and intimate from that person. I work on my voice a lot more these days than I did back in the '80s and '90s when I was spending several hours a day practicing guitar. I feel like I have better control of my voice these days, and I'm learning where my strengths and weaknesses are as a singer. I find that I sing better when I don't have a guitar strapped around my neck, but more often than not, my guitar is on me when I sing live. I've had the honor to sing on three Firehouse songs over the years, "I'm In Love This Time", "I'm The One", and "Holding On" (which we sometimes play in our headlining set). My latest song is on Youtube and it's called "The Bloom Is Off The Rose." I hope you'll check it out.
HRH: Good luck to Firehouse on your upcoming live dates and the cruise and we appreciate your time. Is there anything I left out that you'd like to leave with our Hardrock Haven faithful?
Bill: Thanks to you and your readers for your many years of support and helping me continue to make music for a living. Hope to see you again out of the road!
Online: www.firehousemusic.com, www.leverty.com