Johnny Lima | My Revolution
by Alexandra Mrozowska
– Columnist —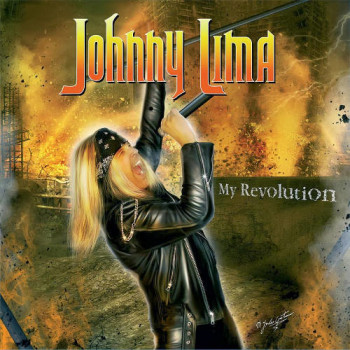 My Revolution is no revolution for Johnny Lima music-wise – this is a fact that needs to be stated in the first place, in spite of the album's title. The fifth album by the Made In California rocker brings an expected solid dose of '80s-infused melodic hard rock instead. A little curiosity for a good start is that Lima released the album independently from any record label, partly thanks to generosity of his fans, whom he approached through IndieGoGo platform and who contributed financially to the album's completion. Kudos to them – My Revolution is an album that the shelving of should certainly be against the law.
Starting off with a sleazy marching riff of the eponymous track, My Revolution offers a collection of songs varying from fast-paced, dynamic rock anthems with modern, groovy guitar riffs ("Happily Ever After You," "Dirty Girls," "Naturally Beautiful") to keyboard-driven, '80s-influenced hard rock tunes ("You're The Drug I Wanna Get High On," "Tell Me Lies" – the latter might as well have been released 25 years earlier). It also touches modern-day rock, with tracks such as "Fill You Up" (featuring some impressive guitar work against electronic background, at first confusing, but nevertheless sounding very fresh), mid-tempo "Couldn't Be The One" or slightly monotonous radio-friendly ballad "I Can't Love You Any More." Lima's obvious inspirations shine through such tracks as "Blame It On Love" (much in vein of Bon Jovi – and yet, a whole lot better than anything the Jersey giants have released since a good many years, enriched with Leppard-esque chorus). There is also a powerful, fist-pumping, groovy "Show Them Who You Are" (starting off with massive chant which, compellingly, brings to mind Danger Danger's trademark yell). This track is undoubtedly of the album's highlights. Another of these is "Into The Light" – very different from the tune mentioned above, with its country-ish, upbeat vibe and melodic chorus. And if in a mood for something completely different, one can always listen to a mellow, piano-based ballad "Maybe You're Right, Maybe It's Wrong" – a clear proof Johnny Lima is still capable of delivering something more sublime than guitar-driven big hooks.
Lyrically, there is a place for some clichéd rock 'n' roll rhymes ("Fill You Up," "Dirty Girls") as well as elaborating on upsides and downsides of love (from "Into The Light" or "Deeper Into You" to the brilliant pun of "Happily Ever After You"). And there is an anthem of self-confidence and individualism, "Show Them Who You Are." Clichéd though it is, it's also one of these upbeat, positive songs that get one's blood pumping and heart beating faster (a perfect soundtrack to one of the confidence building courses, so to speak).
My Revolution definitely meets one's expectations – especially these of listeners familiar with Johnny's previous albums and aware of his heavily polished, clearly '80s-influenced but by no means outdated style. And the (in)famous Bon-Jovi-meets-Def-Leppard quality to his music is here too, making it a must-have for all fans of the above two groups as well as any other listener much into catchy choruses and guitar-oriented hard rock anthems. To put it short – if you are into any of the previous Lima's releases, you're gonna love this one. But if you aren't and you still remain an '80s aficionado, the right piece of advice is to get your copy of My Revolution and dug deeper into Johnny Lima's musical past as well.
Genre: Melodic Hard Rock
Band:
Johnny Lima – all instruments
Guest appearances:
Julian Angel – Lead Guitar (track 3)
Christian Wolff – Lead Guitar (on tracks 2, 6, 7, 9, 11, 15)
Craig Launer – Lead Guitar (on tracks 1, 4, 5, 9, 10)
Track List:
Limited Edition CD
1. My Revolution
2. Happily Ever After You
3. You're The Drug I Wanna Get High On
4. Fill You Up
5. Blame It On Love
6. I Can't Love You Anymore
7. Couldn't Be The One
8. Tell Me Lies
9. Dirty Girls
10. Nowhere Left To Go
11. Maybe You're Right, Maybe It's Wrong
12. Into The Light
13. Deeper Into You
14. Show Them Who You Are
15. Naturally Beautiful
Label: Johnny Lima
Web: http://www.johnnylima.com/
Hardrock Haven rating: 9/10