by Deb Rao
– Senior Columnist —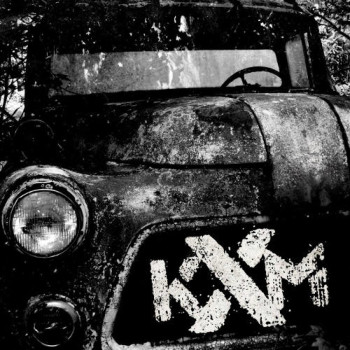 Hardrock Haven is always discovering the next cutting edge band making waves in the music industry. KXM is that next band, featuring ex-Dokken virtuoso George Lynch, Korn drummer Ray Luzier and Dug Pinnick from Kings X. KXM embraces all of these artists' influences introducing the very modern sounding razor sharp KXM.
The 13 track self-titled KXM CD via Rat Pak Records opens with "Stars." This song is kind of grunge with interesting guitar riffs. Next up is single "Rescue Me." This song has the most Dokken hooks catchy melodic vibe on the album. "Rescue Me" shines with the melodic hypnotizing vocals of Dug Pinnick and great guitar riffs featuring George Lynch. The lyrics speak volumes, captivating and haunting, "Rescue Me" is the star track on the entire CD.
KXM debut CD features many different drum tempos and guitar phrasing. There is even a ballad called "Never Stop." This song also features the tender melodic vocals of Dug Pinnick. Track 6 "I'll Be OK' features the ¾ drum timing of Ray Luzier. The song "Sleep" takes on the tender subject of abuse. "Burn" sizzles with the excellent guitar work of George Lynch embellished with the up-tempo drum riffs of Luzier. "Do It Now" features George Lynch experimenting with funky guitar riffs. "Tranquilize" has a bluesy vibe. Track 13 is a radio edit of "Rescue Me."
This is the project that George Lynch fans have been waiting for. Fresh, experimental, and tantalizing, KXM delivers. KXM takes a page from their past, and embraces the future with a project that is inspiring and raw. KXM is destined to be the new cutting edge band of the year.
Genre: Hard Rock, Metal
Band:
George Lynch – Guitar
Ray Luzier – Drums
Dug Pinnick – Vocals
Track Listing:
1.Stars
2.Rescue Me
3.Our Fight
4.Never Stop
5.Faith Is A Room
6.I'll Be OK
7.Sleep
8. Love
9. Burn
10. Do It Now
11. Human Friction
12.Tranquilize
13.Rescue Me –radio edit
Label: Rat Pak Records
Website: www.facebook.com/kxmofficial
Hardrock Haven Rating: 9/10