LIVE! | Foghat & Blue Oyster Cult
by Kent McIntire
– Photojournalist —
March 7th, 2014 at Peppermill Concert Hall in West Wendover, NV. —
While in Las Vegas for other reasons, I was fortunate to take in a show on March 7, 2014 in West Wendover, NV which include the classic rockers of FOGHAT and Blue Oyster Cult. Being a child of the 70's and 80's, the songs of each of these bands resonate in my mind and bring back memories that perhaps I would have liked to forget. Nevertheless, their music is timeless even if most of the members are different from their glory days.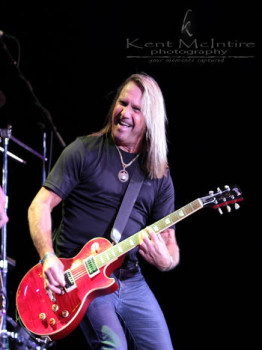 FOGHAT hit the stage first opening with their rock anthem "Road Fever". As soon as Bryan Bassett hit the first lick of the slide guitar (reminiscent of his Molly Hatchet days), the crowd was on their feet through "Drivin' Wheel" and "Stone Blue". Let's face it. FOGHAT's diehard fans are an aging crowd and took advantage of the seats that were available. That said, the younger crowd that was in attendance were not disappointed and were singing in stride when "Fool For The City", "I Just Want To Make Love To You" hit. When Charlie Huhn belts out "Are you ready?! I said ARE YOU READY TO TAKE A….??!!" Everyone shot to their feet and responded in unison "…for a Slow Ride…" Then Roger Earl takes charge, setting the mood while Charlie lights his 6-string ablaze with the intro. Bryan Bassett delivered a spectacular performance not only on "Slow Ride", but he gave a clinic on the slide guitar for the entire show. A big man with commanding stage presence which makes you take notice of his brilliance. While shooting pictures on stage (left), I was standing right next to bassist Craig MacGregor. Occasionally, Craig would glance my way between songs, shrug his shoulders, and bounce his eyebrows as if to say "…that's how it's done!" A seemingly quiet guy with mad bass skills. Craig gets it done, not with a lot of flare, but style.
I have to admit. Coming into the show I wondered how good they (both bands, actually) would really sound. Would they sound like the legends that originally recorded their songs in the 70's and 80's? Could Roger really hang for the entire show? I hoped so. Let me just say that these guys sound like the FOGHAT of old with some modern flare. Charlie Huhn's vocals are 'smoove like butta' and delivered with the high impact punch you would expect. The blues rock slide guitar of Mr. Bassett was an ear-gasm for a rock enthusiast, the bass line put down by Craig was stellar and effortless. Could Roger hang? Please! This man has been behind the kit for … dare I say… 40-ish years. I was on stage during his drum solo that seemed to go on for 10 minutes only to leave me for wanting more. Being a percussion freak myself, Roger made me forget that I had a huge camera hanging from my neck that was being pulled down further by my jaw. The last remaining original member of the band can still bang!
Oh, and by the way. Be looking for a new album from FOGHAT in 2014. FOGHAT's management provided me with a sneak peek of their new single and one thing is for sure. I'll be buying it. They also provided me with a copy of their "Live in St. Pete" DVD which has been reviewed as one of the best live recorded shows, by some. It is pretty spectacular in its own right!
Blue Oyster Cult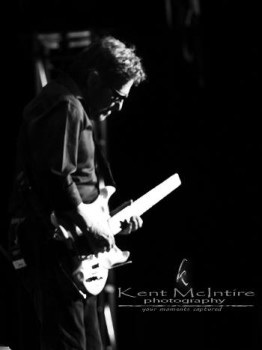 BOC has been doing this for more 4 decades, and as such, you'd expect them to be good. They are. Period. Who would have thought that a band of this caliber would sneak around town playing small gigs under their original name of "Soft White Underbelly"? The band went through a few name changes after the horrific review of a 1969 Fillmore East show and in 1971 settled on Blue Oyster Cult. I like trivia. Don't hate!
Like I said, the following of BOC and FOGHAT is an aging one. Right before BOC took the stage from FOGHAT, I overheard one gentleman say "I'm getting too damn old for this much fun." Honestly, I think it was his trophy wife that was keeping him going, but I digress…
BOC opened their set with "(This Ain't) The Summer of Love" which took the crowd a little time to get into. The segway into "Golden Age of Leather" and its church-like chant intro seemed to get the blood flowing. By the time "Burnin' For You" hit, those in attendance were on their feet and singing along and were dancing in the aisles to "Harvest Moon", "Then Came The Last Days of May". When Eric Bloom introduced "Godzilla", the crowd looked a little confused until Kasim Sulton plucked the signature bass line which seemed to pump some oxygen back into the crowd. As soon as Buck Dharma hit the first few notes of "Don't Fear The Reaper", the crowd bounded to their feet once again and were screaming "MORE COWBELL!"
What grabbed my attention from the beginning was the high energy and many expressions of Richie Castellano. This multitalented entertainer brings a lot to the stage from screaming riffs, killing the ivory, and crowd interaction. Jules Radino was a clinician on the skins; wielding the sticks with precision and not taking any spotlight until being introduced by Mr. Bloom toward the end of the show to which he responded with his signature thumbs-up. Kasim Sulton has played with the likes of Joan Jett, Meatloaf, Utopia, and others. Not to mention an established solo career with an album coming out this year. Kasim plucks the bass with power and gets the crowd engaged making it feel as if he's playing for you.
The one thing I did notice about the show is that it seemed more like the "Buck Dharma Show" at times rather than BOC. That said, if you listen to BOC, a lot of their songs have signature guitar solos that made them who they are in a lot of ways. The good side of that is Buck plays with such precision and doesn't let one note go to waste (as noted on their website). Personally, when I attend shows, I find myself enjoying them more when all of the member's talents are showcased. (Ahem. Like FOGHAT did.)
I'd be remiss if I did not personally thank FOGHAT's road manager, Jim Mears. When I came into the venue, they told me that I would be there for the first 3 songs and then I'd have to take my camera out of the show. Upon meeting with Jim, he gave me full access to the venue, invited me onstage, and allowing me to meet the members of FOGHAT after their performance. Thanks to Jim, I was able to shoot and attend both shows in their entirety.
LIVE! | Foghat & Blue Oyster Cult Concert Photo Gallery