by Anabel Dflux
– Senior Photojournalist —
February 22th, 2014 at House of Blues Hollywood in West Hollywood, CA. —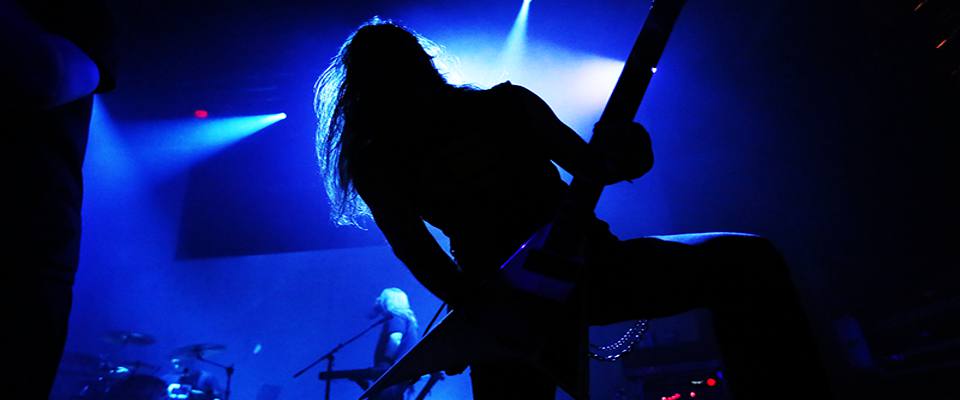 The Finnish took over the House of Blues Hollywood on Saturday night, February 22nd. With six albums under their belt, melodic death metal band Omnium Gatherum put on quite a show as they opened for Dark Tranquility.
Finland is known for their incredible metal acts, and whenever a band hails from there you know it'll be a good time. This show was certainly no exception, the crowd went absolutely wild! Half the audience was there solely for Omnium Gatherum, which is quite impressive. The vocalist constantly interacted with the crowd, and always had a big grin on his face. Memorable doesn't even begin to cover this show!
Symphonic melodies were overlaid with fierce, growling vocals- definitely a band with a sound unlike anyone else. Omnium Gatherum stood out from the crowd, and despite their darker tones, the enthusiasm was prevalent throughout the performance. Not only was the band intention grabbing- their instruments were quite eye caching as well! Whether or not you have knowledge on music instruments- you can admit that the guitar and bass were stunning. The musicians themselves tapped into their rocker roots, often showing off their snazzy skills and incomparable talent.
You better be sure to catch this band- the Finnish are coming, and we like it!
Members:
Markus Vanhala – Guitar
Jukka Pelkonen – Vocals
Jarmo Pikka – Drums
Aapo Koivisto – Keyboards
Joonas Koto – Guitar
LIVE! |Omnium Gatherum Concert Photo Gallery