LIVE! | Tracii Guns With The Sin City Sinners
by Deb Rao
– Senior Columnist —
March 20th, 2014 at Vamp'd in Las Vegas, NV.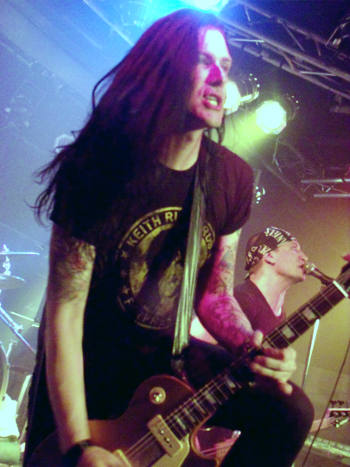 What do you get then you pair Las Vegas premiere number one rock band The Sin City Sinners with Tracii Guns? That would be an epic night of rock and roll. Guitar virtuoso Tracii Guns joined the Sin City Sinners onstage March 20 at Vamp'd.
The Sin City Sinners featuring Todd Kerns on vocals opened the night with a medley of songs by Kiss and the Faster Pussycat song "Bathroom Wall." It was great to see Todd back with the band tonight. The execution and precision of the performance of The Sin City Sinners tonight was absolutely flawless. At 11:30 p.m. Tracii Guns joined The Sinners onstage with Van Halen Hit "Ain't Talking Bout Love" featuring Zachary Throne on vocals.
The night was just getting started as Tracii shredded the guitar strings in a full metal blitz. Next up some Dio with "Rainbow In The Dark" and Zach on vocals once again. The energy of the band was pulverizing. Sticking to the '80s genre "Wasted" rocked hard. Tracii even took a moment to sing and play the blues. Tracii has a guitar style that goes from bluesy to metal to punk.
The night wouldn't be complete without a few LA Guns songs including "Never Enough" and "Sex Action." Taking a page from the Led Zeppelin genre, the Sin City Sinners and Tracii Guns brought down the house with the riveting "Whole Lotta Love." The Sin City Sinners capped the night with original hits "It's Not You It's Me" and "Going To Vegas" with Todd Kerns on vocals.
Tonight the energy of the band was through the roof. You just never know who will join the band onstage. The caliber of performers and sheer talent of the band make them the number one band in Vegas. Brent Muscat and company are keeping the Vegas music scene alive.
Online: www.facebook.com/sincitysinners