Mark Schuster | Unstable Melodics
by Joe Mis
– Senior Columnist —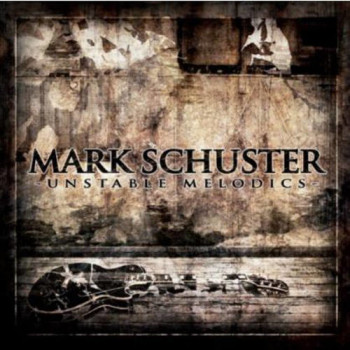 Things get better with age, and Mark Schuster's latest instrumental release Unstable Melodics is proof. The Chicago-based multi-instrumentalist has followed up on his 2010 release Losing Faith with a fiery and passionate instrumental release that cements his reputation as a complete musician. Mark not only writes complete songs (not just sticking cool riffs together and moving on as some do) and plays all instruments, but he also handles all of the engineering, mixing, and production tasks. As Losing Faith demonstrated, Mark can also sing – but for this release he decided to simply focus on the music much as he did on his first release, 2005's Monster Me.
Starting his musical career as a drummer and moving on to the guitar, Schuster dabbled in almost every genre from classical to metal, finally setting his sights on good old fashioned hard rock. There is no doubt that Mark is a technically exceptional guitarist, delivering big hooks and chugging rhythm lines that run the gamut from soft and melodic acoustic riffs to ultra heavy distorted power chords. His leads are sometimes calm and sometimes aggressive, but no matter which Schuster exhibits a deft and delicate touch never. His skills as a bassist, drummer, and keyboard player are also obvious – and the mix of this small independent album rivals or exceeds that of many of the big studios.
"Kick The Tires And Light The Fires" lives up to its name. Massive booming bass and spiraling guitars launch the album in a very metal way. Gritty guitar work and a slick rhythm line show that Mark is very serious about his music, and he pulls no punches while laying down this showcase track. "Come Hell Or High Water" has a bit of an old school thrash feel to it – coupled with a Satriani-style rhythm, but chugging bass leads the way despite some huge, catchy lead hooks. Everything just works perfectly on the fluid ballad "Love Will Find A Way" as rolling bass blends with layered guitar. Mark's overall musical sense extends down even to the drum programming and keyboard textures, and he exhibits a deft and delicate touch on this emotional piece. The lead guitar work on this particular track is the finest on the release. The hard and heavy "A Little Jiggy Wiggy" is a mishmash of many influences – everything from Van Halen to Satriani to Michael Schenker to Wolf Hoffmann – all delivered flawlessly.
"All In Your Head" is a sweeping, flowing track driven by bass and drums. The blues tinged lead guitars float over a twisting and spiraling rhythm line that is constantly evolving and seems to build in intensity as the song develops. "Disconnecting" lives up to its title as the music slams on the brakes and becomes mostly classical style acoustic guitars and keys, leaps back into the electrics at mid-track, and journeys back to acoustic at the fade. "Always By Your Side" is lighter, upbeat progressive rocker that carries the listener away to a peaceful place before the the aggressive and bouncy "What The Funk?" brings on a smile of a different sort – particularly to fans of the bass. "Siren" is a very fluid progressive style rocker, and the bass work here is truly exceptional. "Hey, Bring It Over Here!" is a party rocker if there ever was one – Joe Satriani meets Helix – and a great way to close out a fine album.
If there is one guy out there who is the epitome of melodic hard rock, it has to be Mark Schuster. He is not all bluster and fire – the discerning ear will pick up the enthusiasm and raw emotion that has gone into this album. Mark is a true artist, and his guitars speak volumes. Anyone with a love of rock guitar will enjoy Unstable Melodics – quite possibly the finest all-instrumental independent release of the last two decades.
Genre: Instrumental Hard Rock
Band:
Mark Schuster (all instruments)
Track Listing:
1. Kick the Tires and Light the Fires
2. Come Hell Or High Water
3. Love Will Find A Way
4. A Little Jiggy Wiggy
5. All In Your Head
6. Disconnecting
7. Always By Your Side
8. What the Funk?
9. Siren
10. Hey, Bring It Over Here!
Label: Independent
Website: www.markbschuster.com
Hardrock Haven rating: 9.5/10