Metal Church, Discharge and Gorguts headline the 17th edition of SWR Barroselas Metalfest
SWR Barroselas metalfest XVII, set to take place from April 23th to 26th 2014 at the small village of Barroselas in the north of Portugal, gets ready to celebrate its seventeenth anniversary with more than fifty metal acts coming from all around the world.
Metal Church, Discharge, Gorguts, Misery Index, Hirax, Anaal Nathrakh, Pungent Stench and In Solitude are among the main attractions in the current edition of the foremost Iberian extreme metal festival.
SWR barroselas metalfest features two indoor stages and an outside free entrance area featuring some performances and concerts. A forest campsite with toilets and hot shower facilities opens for free usage during the entire festival.
The official website at www.swr-fest.com also hosts an online booking system for those who might wish to get hold of tickets including hostelling and coach transportation from Lisbon, Oporto, Viana do Castelo and Vigo featuring bus stops at nearest airports.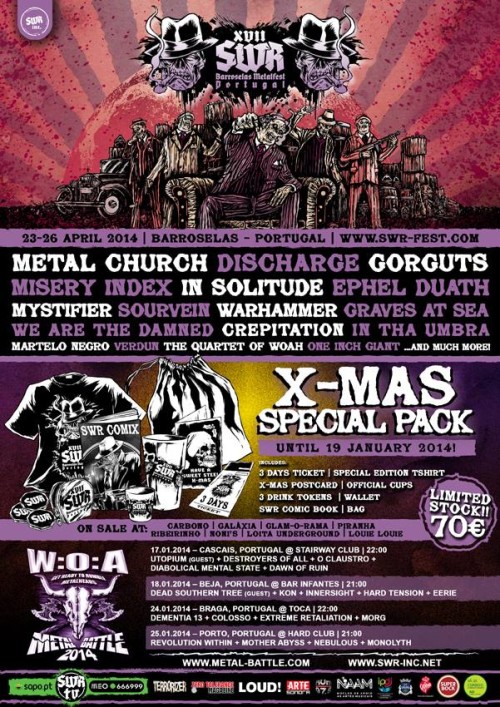 PROGRAM
SWR BARROSELAS METALFEST XVII
23-26 APRIL 2014 | BARROSELAS | PORTUGAL
DAY 0 – wednesday 23 april – 19:00 – free entrance
EXECUTER | Brazil | www.facebook.com/bandaexecuter
VENGHA | Sweden | www.facebook.com/Vengha
DEMENTIA 13 | Portugal | www.facebook.com/bavalives
DESTROYERS OF ALL | Portugal | www.facebook.com/DestroyersofAll
NEBULOUS | Portugal | www.facebook.com/nebulouspt
REVOLUTION WITHIN | Portugal | www.facebook.com/revolutionwithinband
DAY 1 – thursday 24 april – 18:30 – 30€
GORGUTS | Canada | www.facebook.com/GorgutsOfficial
MISERY INDEX | USA | www.facebook.com/MiseryIndex
NEGURA BUNGET | Romania | www.facebook.com/negurabunget
SOURVEIN | USA | www.facebook.com/pages/SOURVEIN/238932972468
GRAVES AT SEA | USA | www.facebook.com/GravesAtSea
ERYN NON DAE | France | www.facebook.com/ERYNNONDAEofficial
NAMI | Andorra | www.facebook.com/namiofficial
WE ARE THE DAMNED | Portugal | www.facebook.com/wearethedamned
IN THA UMBRA | Portugal | www.facebook.com/inthaumbra
ETERNAL STORM | Spain | www.facebook.com/eternalstormofficial
SERRABULHO | Portugal | www.facebook.com/serrabulhogrind
EQUATIONS | Portugal | www.facebook.com/Equationspt
ERMO | Portugal | www.facebook.com/ermo.braga
SOLAR CORONA | Portugal | www.facebook.com/solarcorona
DAY 2 – friday 25 april – 17:00 – 35€
METAL CHURCH | USA | www.facebook.com/OfficialMetalChurch
SCHIRENC PLAYS PUNGENT STENCH | Austria | www.facebook.com/pungentstench.official
BLACK WITCHERY | USA | www.officialblackwitchery.bigcartel.com
BLOOD RED THRONE | Norway | www.facebook.com/BloodRedThroneOfficial
MYSTIFIER | Brazil | www.facebook.com/mystifier666
WARHAMMER | Germany | www.facebook.com/DeathDoomBrigade
ANTROPOFAGUS | Italy | www.facebook.com/antropofagus.official
CREPITATION | UK | www.facebook.com/crepitation
AGE OF WOE | Sweden | www.facebook.com/ageofwoe
TRINTA & UM | Portugal | www.facebook.com/trintaeum.lvhc
FOR THE GLORY | Portugal | www.facebook.com/forthegloryhc
THE QUARTET OF WOAH | Portugal | www.facebook.com/thequartetofwoah
BOSQUE | Portugal | www.bosque.pt.vu
ASPEN | Portugal | www.facebook.com/lesaspen
ANGIST | Iceland | www.facebook.com/angisttheband
BED LEGS | Portugal | www.facebook.com/BedLegs
PUTNAM WAS THE BASTARD | Portugal | www.youtube.com/watch?v=uAi-Zj9O2VI
DAY 3 – saturday 26 april – 17:00 – 35€
DISCHARGE | UK | http://thenightmarecontinues.yolasite.com/
ANAAL NATHRAKH | UK | www.facebook.com/Anaalnathrakhofficial
HIRAX | USA | www.blackdevilrecords.com
IN SOLITUDE | Sweden | www.facebook.com/insolitudeofficial
BONDED BY BLOOD | USA | www.facebook.com/officialbondedbyblood
WORMED | Spain | www.facebook.com/wormed
GRAVE MIASMA | UK | www.facebook.com/gravemiasma
BÖLZER | Switzerland | www.facebook.com/pages/BÖLZER/108657105834227
NUCLEAR | Chile | www.facebook.com/nuclearcl
GWYDION | Portugal | www.facebook.com/GwydionPT
VERDUN | France | www.facebook.com/pages/Verdun/159628640747996
DISPLAY OF POWER | Spain | www.facebook.com/Display.Of.Power.Pantera.Tribute
ONE INCH GIANT | Sweden | www.facebook.com/oneinchgiant
METHEDRAS | Italy | www.facebook.com/methedrasthrash
DOLENTIA | Portugal | www.dolentia.pt.vu
MARTELO NEGRO | Portugal | www.facebook.com/martelonegro
VAI-TE FODER | Portugal | www.facebook.com/Vai.Te.Foder.grind
PTEROSSAUROS | Portugal | www.facebook.com/PTEROSSAUROS
venue: Complexo Desportivo ADB
address: Avenida São Paulo da Cruz, Barroselas, Portugal
doors open: 17:00 | tickets: 65€ | pre-sale until 15 April at www.swr-fest.com
web: www.swr-fest.com